Microsoft's Internet Explorer 8 chasing Apple's Safari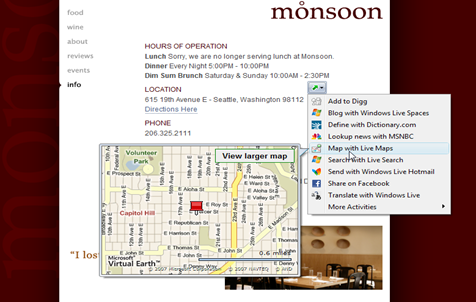 Microsoft on Wednesday previewed the next generation of Internet Explorer, promising greater interoperability with modern Web standards that have thus far eluded the Windows-based browser and plagued developers' attempts to author truly browser and platform independent web sites.
Speaking at the company's MIX08 online technology conference, Microsoft browser chief Dean Hachamovitch said Internet Explorer 8 delivers better predictability when designing sites, and will feature full support for cascading style sheet (CSS) 2.1 when it's finally issued to manufacturing.
A beta, due for release later in the day, will also include a handful of new end-user features in addition to several developer-oriented debugging tools, both of which the Redmond, Wash.-based firm hopes will provide an edge in its ongoing battle with rival partners Google and Mozilla (Firefox) for maintained supremacy on the web.
Among the top enhancements for end users is a service-related mapping feature reminiscent of embedded Google Maps called "Activities," and another akin to the Web Clips feature of Apple's Safari browser, dubbed "WebSlices."
Microsoft describes Activities as "contextual services to quickly access a service from any webpage," allowing users to bypass the process of, for instance, copying a street address from one website and then pasting it into the website of a mapping service to bring up its location.
"For example, a user is interested in a restaurant and wants to see the location of it," the company said. "This is the form of a "look up" Activity where the user selects the address and views an in-place view of the map using his favorite map service."
In addition to Microsoft's "LiveMaps" service, the default Activities contextual menu lists about a half-dozen of the software giant's other services, in addition to links for "Share on Facebook" and "Add to Digg."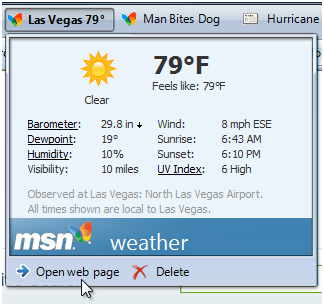 Meanwhile, WebSlices appear to be a near facsimile of Web Clips without a separate runtime environment like Dashboard: "Internet Explorer 8 Users can discover WebSlices within a webpage and add them to the Favorites bar, a dedicated row below the Address bar for easy access to links. Internet Explorer 8 subscribes to the webpage, detects changes in the WebSlice, and notifies the user of updates."

Other features of Internet Explorer 8 include a links bar (similar to Safari's Bookmarks Bar) that has been renamed the "Favorites Bar," an "Automatic Crash Recovery" tool, and an improved anti-phishing filter.
Also on Wednesday, Microsoft released a beta version of Silverlight 2, its competitor to Adobe's Flash for rich, cross-platform media content on the web, and dropped hints that the software could eventually make its way to Apple's iPhone.
"We're releasing Silverlight on more and more mobile platforms, said Scott Guthrie, Microsoft's Corporate Vice President, Developer Division. "We'll release it on anything with an SDK."