Exploring Time Capsule: how it fits into Apple's AirPort family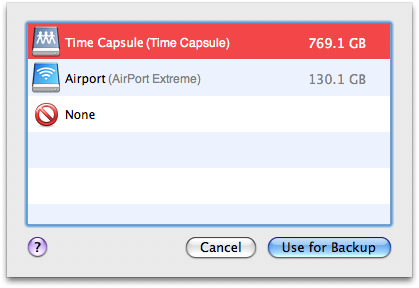 AppleInsider is supported by its audience and may earn commission as an Amazon Associate and affiliate partner on qualifying purchases. These affiliate partnerships do not influence our editorial content.
Time Capsule, announced at this years' Macworld Expo, serves as a simple rebranding of the AirPort Extreme with an integrated hard drive and power supply. Apple sells the new Time Capsule next to last years AirPort Express and the compact AirPort Express. This segment, the first of six exploring Time Capsule in depth, highlights the differences between the members of Apple's AirPort family.
Time Capsule vs Airport Extreme
Over the last several weeks, Time Capsule held a temporary advantage over last years' AirPort Extreme in its being able to work with Mac OS X 10.5 Leopard's Time Machine feature to deliver wireless automated backups. However, Apple's recent firmware upgrade has brought the existing AirPort Extreme units up to speed with Time Machine as well. So what's the difference, and is there still any need to upgrade?
This series of segments exploring Time Capsule, to be published over the course of one week, will highlight the differences in speed between the different models, in different usage patterns, and using different interfaces, all supported by real world testing in comparison with the theoretical maximum data transfers advertised. It will also answer the question: is Time Machine practical for use over wireless networking?
Previous articles related to Time Capsule and its AirPort Extreme cousin:
The recent AirPort software update included a new 5.3.1 revision to AirPort Utility, as well as firmware updates for both the 2008 Time Capsule and 2007 AirPort Extreme, both of which are now identified as using firmware version 7.3.1. Once updated to the latest firmware, shared USB disks attached to the AirPort Extreme show up in Time Machine next to the Time Capsule drive (below). Previously, AirPort Extreme shared drives only functioned as network file shares in the Finder, as described in Teardown: a look inside Apple's Time Capsule backup appliance.
Earlier "UFO" shaped models of the AirPort Extreme do not support the faster 802.11n wireless networking standard nor USB disk sharing. The compact AirPort Express model also does not support USB disk sharing. That means in order to set up network file sharing and Time Machine backups, you'll need a square AirPort Extreme purchased over the last year or so, or a new Time Capsule. Earlier AirPort base station models can be recycled by being configured to join the same network and therefore be used to expand its wireless coverage.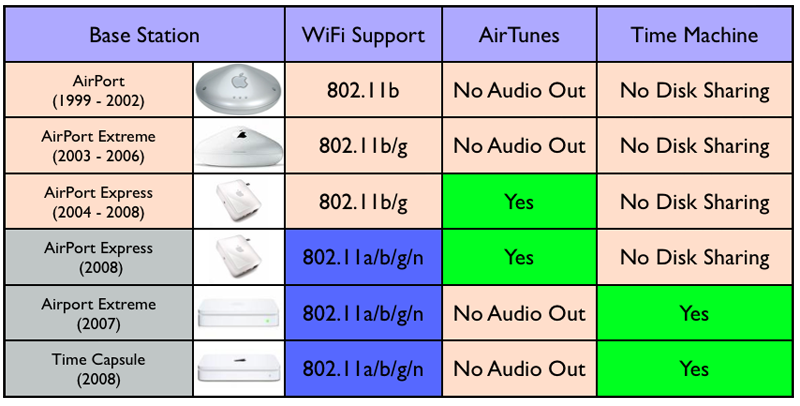 Never Mind the Bottlenecks, Here's Time Capsule
As depicted in Teardown: a look inside Apple's Time Capsule backup appliance, Time Capsule uses a direct SATA connection to its internal hard drive, suggesting the potential for faster drive access compared to an externally connected USB disk, the only disk sharing option available to AirPort Extreme base stations. However, the speed advantage of SATA over USB shouldn't matter, considering that most users will be accessing their base station wirelessly over a 802.11n connection that is much slower than USB. Our test result numbers support this idea.
Non-mobile machines can substantially improve their connection speed by plugging directly into the Time Capsule or AirPort Extreme using an Ethernet cable. Both units supply three LAN Ethernet ports, and these can be connected to an external Ethernet switch to supply a fast wired connection to additional number of wired machines. Both models now support Gigabit Ethernet, although early models of the AirPort Extreme sold before August 2007 only offered Fast Ethernet (10/100) ports.
That means users with Time Capsule or an "AirPort Extreme 802.11n (Gigabit Ethernet)" can access their shared drives over a wired network at Gigabit Ethernet speeds; earlier "AirPort Extreme 802.11n (Fast Ethernet)" models sold prior to August 2007 can only manage 100 Megabit Ethernet, which is theoretically slower than 802.11n wireless networking. In practice however, even Fast Ethernet is usually faster in practice than the fastest wireless.
That segues into Friday's segment, which will explore the difference between theoretical data throughput numbers and the practical speeds users will experience in the real world. Our testing will look at the speeds promised by Time Capsule's SATA, USB 2.0, 10/100/1000 Ethernet, and 802.11b/g/n wireless networking interfaces. That examination will set the stage for exploring what kind of speed users will actually see from Time Capsule, how it compares to the similar AirPort Extreme, as well as a standalone computer acting as a network file server.