iPhone Optus rumor; Apple TV allows movie sales; Mac web share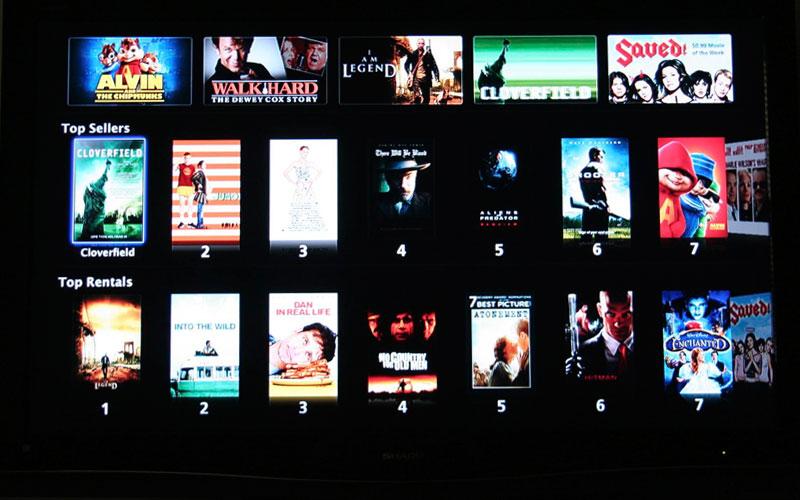 AppleInsider is supported by its audience and may earn commission as an Amazon Associate and affiliate partner on qualifying purchases. These affiliate partnerships do not influence our editorial content.
Apple may use Australia as a testbed and sell the iPhone as a non-exclusive in the country, says one report. Meanwhile, Apple has enabled direct movie purchases from the Apple TV, Mac and iPhone web share has dropped in April as the iPhone becomes Flickr's top cameraphone. Also, Apple is moving some of its support efforts from California to Texas, and new iMacs have been tested against earlier models.
iPhone rumored for Australia as Optus non-exclusive
In an unusual report, CNET Australia on Thursday claimed knowledge that the iPhone will arrive in Australia under very different terms than for past carriers.
Similar to recent rumors circulated regarding Europe and Latin America, the technology site points to an alleged industry insider who says the phone will be available first through a local carrier, Optus — but that the provider won't have sole rights to the device, as AT&T and initial European carriers enjoy today.
An announcement will reportedly surface in mid-May but may not mention the specific device; Optus is expecting to launch with future iPhone models rather than the existing generation, according to the anonymous source. Rogers Wireless in Canada has already followed a similar pattern, announcing a Canadian iPhone deal but leaving virtually all details until later.
Unlike Canada, however, the Australian launch has been rumored to include an unlocked model that could be used with any carrier available to the island nation.
Apple flicks switch on Apple TV movie sales
At the same time as Apple has announced day-and-date movie sales through iTunes, the company has also quietly pushed out an update to the Apple TV version of the store that allows direct movie purchases.
Beforehand, users of the set-top box had their direct access limited to rentals, with viewing of purchased titles limited to those synchronized from a host Mac or PC.
The change doesn't require a firmware upgrade and has also altered the front-end of the store to list top sellers as well as the existing rental options.
iPhone, Mac share dip in April
The web firm observes that Mac share among its client sites fell significantly between March and April, dropping from 7.48 percent to 7.01 percent in the four-week span. That share has largely been taken by Microsoft, which climbed from 91.57 percent to 91.99 percent at the same time.
iPhone share also declined in the period from 0.15 percent to 0.14 percent, though it remains the single largest mobile client tracked at Net Applications and the only one to register a visible influence.
The monitoring company doesn't offer an explanation for the drop.
iPhone dominates Flickr's camera phone share
Among Flickr's many camera phone contributors, the iPhone is the clear frontrunner, as pointed out by Computerworld.
The Apple phone in recent months has surged past the previously leading Nokia N95 to take the top position at the photo storage site — a feat which comes despite the N95's superior equipment, which includes a five-megapixel sensor (versus the iPhone's two), autofocusing, and a flash.
Other phones in the top five run well short of these two competitors, with Nokia's N73 as well as Sony Ericsson's K800i and W810i rounding out the devices most likely to have taken photos appearing on Flickr pages.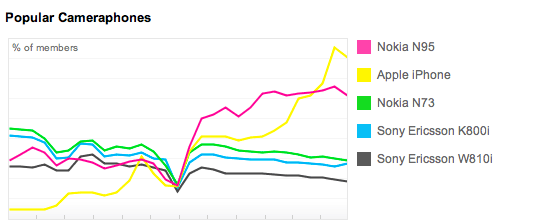 Apple moves Elk Grove support jobs to Texas
Apple on Thursday expanded its presence in Texas by revealing that it will transfer 174 jobs from its Elk Grove, California call center to its Austin location.
Those affected by the transfer are being asked to either move to follow their positions or else to seek alternative jobs at the West coast office.
The company hasn't offered an explanation and has asked employees to remain silent on the matter, though it takes care to state that Elk Grove operations have grown dramatically since 2005, jumping by 50 percent to 1,100 staffers.
In July of last year, Apple was discovered to be expanding operations at its Austin facilities to reduce overcrowding problems at its Cupertino, California buildings.
New iMacs show slight performance gains
Synthetic benchmarks show the 3.06GHz iMac advancing only slightly over its predecessor, according to tests run by Primate Labs.
The Canadian developer of the GeekBench testing suite notes that its test sees the Intel Penryn-based system outpacing its 2.8GHz ancestor by slightly more than 7 percent. The findings lead the company to suggest that those concerned with value for money are better off avoiding the top-end system unless video and storage are top priorities.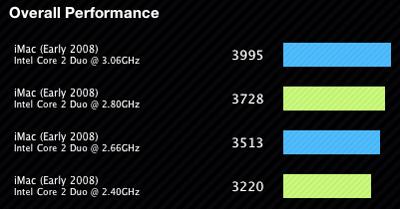 "If you're looking for the best value in terms of raw processing power, the best iMac to get is the base model," Primate says. "Even after upgrading the RAM in the base model it's still more cost-effective than the mid-range 20-inch iMac."