Safari for Windows market share triples following SW Update push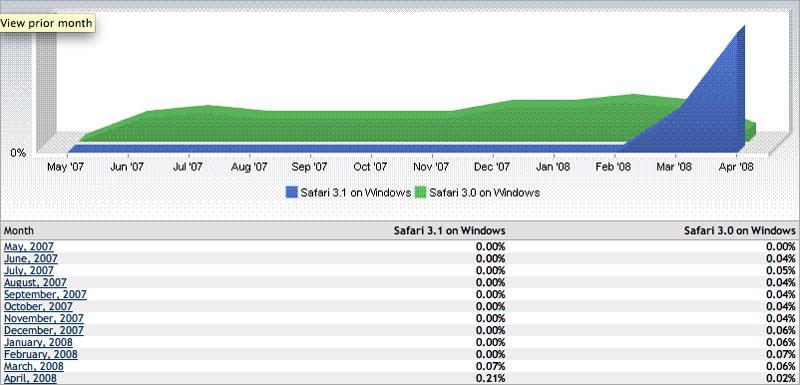 Apple Inc. saw its share of the Windows browser market triple immediately after it began encouraging users of the Microsoft operating system to download and install its Safari web browser through the widely deployed Apple Software Update mechanism, according to a new report.
Net Applications, a firm which tracks browser share and operating system usage, noted in a release Thursday that Safari 3.0 on Windows never gained much traction, with its share peaking at just 0.07 percent. However, Safari 3.1 on Windows has rapidly muscled gains over the past six weeks, already tripling Safari 3.0's peak at 0.21 percent.
The surge follows a move by the Cupertino-based company back on March 18th in which it began pre-selecting Safari 3.1 installs as part of its Software Update service installed on millions of PCs that run the company's iTunes software.
"Normally, Apple's Software Update service is not used for delivery of new products. Clearly, this is a calculated risk by Apple that has annoyed and/or alienated some users," Net Applications said. "However, the question is, did it work? Did Apple gain browser market share on Windows based on this move? The answer is yes."
Indeed, Apple became the subject of much criticism following the move, as industry watchers and rival browser developers charged the company with using its Software Update mechanism as as a trojan horse to gain an unfair advantage in the battle for share of the web browser market.
In response, the company a month later issued a revised version of the Software Update mechanism for Windows separating new software releases from regular updates to applications already installed on users' machines. It also added a toggle to turn off automatic software updates, though the box remained checked "on by default.