More unofficial Mac clones up for sale on eBay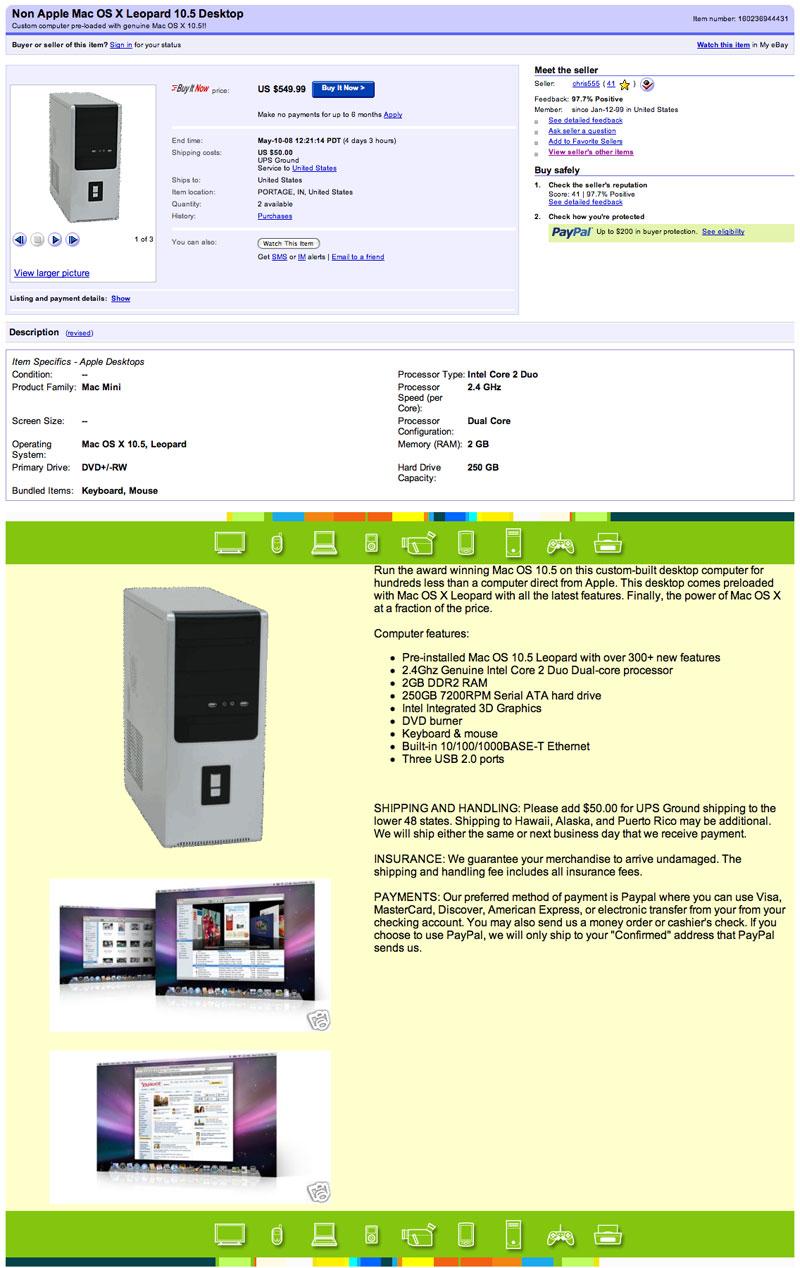 A recent move by a little-known Florida-based solutions provider to openly challenge Apple on its Mac OS X licensing terms and begin selling an unauthorized Mac clone appears to have spawned a copycat.
A seller by the name of "chris555" is now offering on eBay a $549 "Non Apple Mac OS X" system that comes "pre-loaded with genuine Mac OS X 10.5." Two such systems are currently available for direct purchase, the seller says.
"Run the award winning Mac OS 10.5 on this custom-built desktop computer for hundreds less than a computer direct from Apple," reads a description of the product. "This desktop comes preloaded with Mac OS X Leopard with all the latest features. Finally, the power of Mac OS X at a fraction of the price."
Constructed in a generic beige and black enclosure, they system sports a 2.4Ghz Intel Core 2 Duo Dual-core processor, 2GB DDR2 RAM, 250GB 7200RPM Serial ATA hard drive, Intel Integrated 3D Graphics, DVD burner, Built-in 10/100/1000BASE-T Ethernet, and three USB 2.0 ports.
The offering is similar to one announced last month by Psystar Corporation, which also ships with Mac OS X Leopard and includes a 2.2GHz Intel Core 2 Duo microprocessor, 2GB of DDR2 667 RAM, an integrated Intel GMA 950 Graphics card, 20x DVD+/-R drive, 4 USB ports, and a 250GB 7200RPM drive.
Although the integrity of Psystar has come under considerable scrutiny, at least one customer claims the company has made good on its promise to fulfill orders for the $400 Mac clone.
Apple, which has historically been quick to thwart attempts on the part of grey marketers to distribute imitations products, has been uncharacteristically silent on the matter. This despite Psystar's open invitation to the Mac maker to formally charge it with a violation of the Mac OS X licensing terms in a court of law.
Those terms, Psystar argues, are in violation of antitrust laws — an argument for which the clone maker may have a precedent working in its favor. According to TechNewsWorld, a 1984 U.S. Circuit Court of Appeals decision held that a software publisher can't require consumers to run an operating system on a specific type of hardware.
The Supreme Court reportedly refused to review the case.