Component report pins MacBook overhaul for third quarter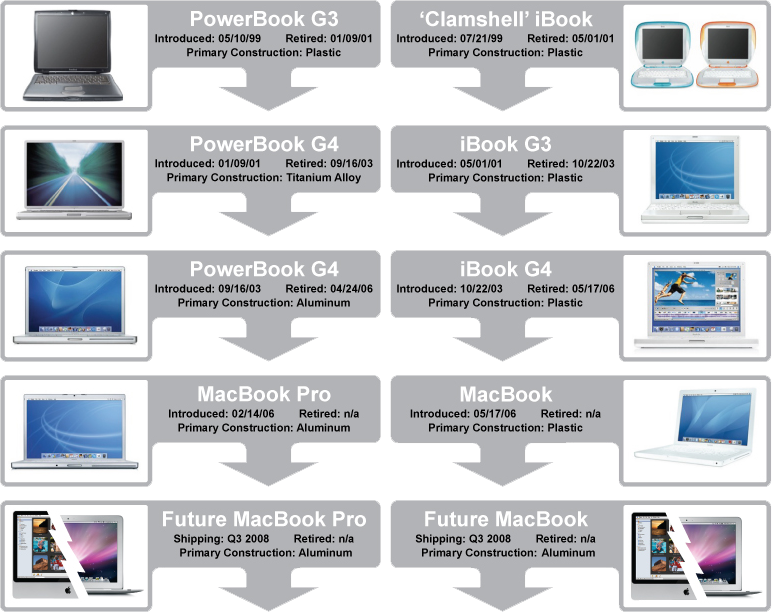 AppleInsider may earn an affiliate commission on purchases made through links on our site.
The next update to Apple Inc.'s line of 13-inch MacBook consumer portables will arrive sometime during the third quarter of the year, Far Eastern component suppliers are reported to have revealed.
Without citing sources, the Chinese-language Commercial Times said Friday that Taiwan's AU Optronics and Chi Mei Optoelectronics will evenly split the LCD panel orders for the new notebooks, which will see a launch somewhere in the July to September timeframe.
These new MacBook, as AppleInsider exclusively reported last month, will see their first structural and aesthetic changes since being introduced as an Intel-based replacement for Apple's iBook line over two years ago.
More specifically, people familiar with the matter have said the notebooks will shed their plastic enclosures for ones constructed from more eco-friendly materials such as aircraft-grade aluminum and stainless steel.
When they arrive later this year, alongside similarly overhauled MacBook Pros, the notebooks should more closely resemble the overall appearance of Apple's aluminum iMacs and the MacBook Air, those same people have said.
The report by the Commercial Times offers the same timeframe for the new notebooks originally reported by AppleInsider, which is slightly later than the June timeframe reported by another technology publication.
Both the MacBook and MacBook Pro are expected to receive "Montevina"-based processors from the Intel's upcoming Centrino 2 platform, which require a new "Socket B" logic-board. The second-gen mobile Penryn chips boast a 1066MHz front-side bus and clock between 2.26GHz and 2.8GHz.