3G iPhone shell photos; possible Centrino 2 delay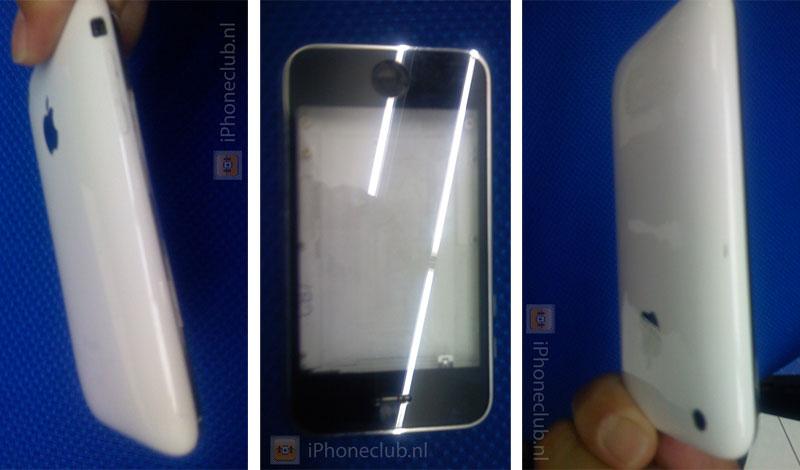 Photos have surfaced of an accessory maker's purported reference model for the 3G iPhone. Also, Intel may have stalled the launch of its Centrino 2 mobile platform, potentially affecting the release of future MacBooks.
3G iPhone case mockup reappears in Netherlands
While there has been no shortage of images purported to reflect the final look of a 3G-capable iPhone, a new leak by Dutch site iPhoneclub supports evidence of subtle but significant alterations to the iPhone's outer appearance.
Seemingly matching a southeast Asian leak from just two weeks earlier, a mockup allegedly being used by a European accessory designer has a curved back needed to handle the extra demands of 3G as well as subtler visible changes, including a thinner chrome bezel that gives the appearance of a larger front face.
The back similarly abandons the silver-tinted aluminum of the current iPhone in favor of what appears to be white plastic, matching month-old descriptions by iLounge that suggested Apple may return to offering multiple colors. The possibility exists, however, that the backing is simply left white-colored for testing purposes.
Those same allegations also pointed to additional, hidden sensors at the top of the phone that may be used for video calling. None of these are immediately visible in the accompanying shots, while the reportedly altered microphone and speaker grilles are also hidden from view.
Intel's Centrino 2 may face multi-week delay
Predictions that Apple will introduce new MacBooks at WWDC may have been dashed by a last-minute delay.
Citing contacts it claims are close to Intel, TG Daily alleges that delays in approving the Wi-Fi chipset for the Centrino 2 platform's mainboard will now push the debut of the architecture until July 14th, or between two to three weeks after a projected but still unofficial late June launch window.
This initial launch would only include Intel's standard 802.11a/b/g wireless chipset, the purported sources claim; systems that need 802.11n would need to ship two weeks later.
As Apple uses 802.11n across all its notebooks, a delay of the sort would stall the shipment of Apple's planned major MacBook redesigns until late July or afterwards.
Separately, an issue with integrated graphics chipsets associated with Centrino 2 has also allegedly created problems and would specifically stall the launch of new aluminum MacBooks, which are likely to depend on Intel's built-in video hardware.