Apple's eclectic Sydney flagship shop revealed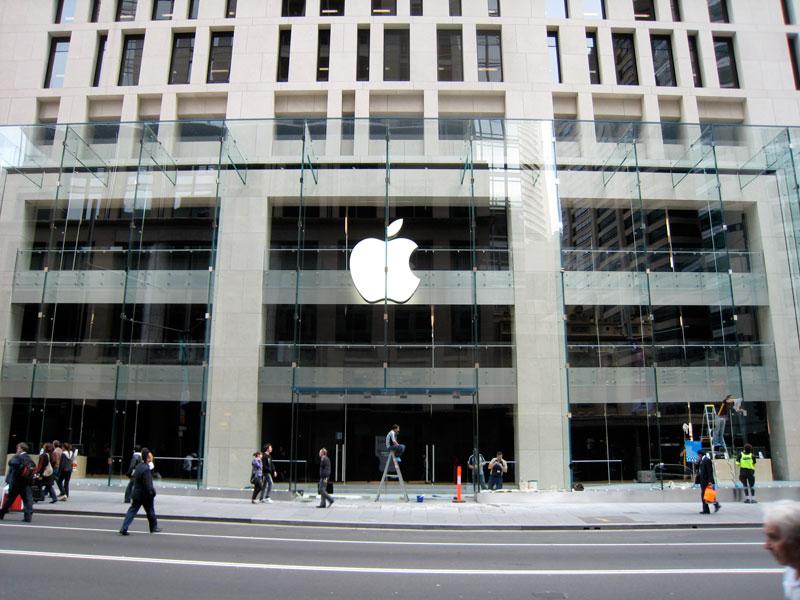 Apple this week peeled the bondi blue wrapping from the all-glass facade of its latest high profile retail store in Sydney, allowing passersby to snap photos of the iPhone maker's first Australian outlet before a black curtain was almost immediately raised to block interior views.
The three-story shop at 367 George Street will hold its grand opening on Thursday, June 19 between 5:00 p.m. and 9:00 p.m. local time. It will be the first of at least three stores destined for the continent, including one in Sydney's Chatswood suburb and another in Melbourne, both of which are expected to open by the holidays.
A fourth location, in Stonnington has also been rumored as part of lavish $200 million redevelopment project targeting a historic but under-utilized Fun Factory building on the corner of Toorak Road and Chapel Street in the Melbourne suburb (renderings).
As is more often the case than not, Apple faced a number of challenges in designing the George Street location because the building it's housed in contains only offices and was never designed to occupy a retail store, according ifoAppleStore's Gary Allen, who is on site awaiting Thursday's official unveiling.
"So when Apple signed the papers, they also signed on to come up with a way to shoehorn their traditional design into a very wide, yet very shallow space," he writes. "The reason for shallow is because behind the store is the central core of the office building, where architects traditionally locate the elevator banks and utility risers. So Apple went in another direcction— they used their now-traditional glass box design for the front, basically enclosing the space between the office building and the sidewalk, and converting it to [form] interior store space."
That technique added about 15 feet to the front of the building, which Apple will now use for cashwrap space, Allen says. Similarly, Apple also made modifications to the concrete sideway and entranceway, which originally sloped away from the building.
"Now Apple has leveled it out, then stepped up where the glass meets the sidwalk. Inside, there are more level changes at the building line— two steps up with railings to reach the actual display space of the store," Allen says. "The sidewalk also slopes downward from right to left at the front of the store. So the glass is flush with the sidewalk on the left side, but perhaps 12-14 inches above the sidewalk on a concrete ledge on the right side."
Although Apple retail chief Ron Johnson recently declined to disclose the store's square footage to a local publication, citing interior features that consume unknown portions of space, estimates put it at about 14,370 square feet across the three floors. A staircase apparently sits in a 10-foot section along the shop's rear, which is partially obstructed by a wall.