Challenges ahead as Apple and Best Buy expand Mac program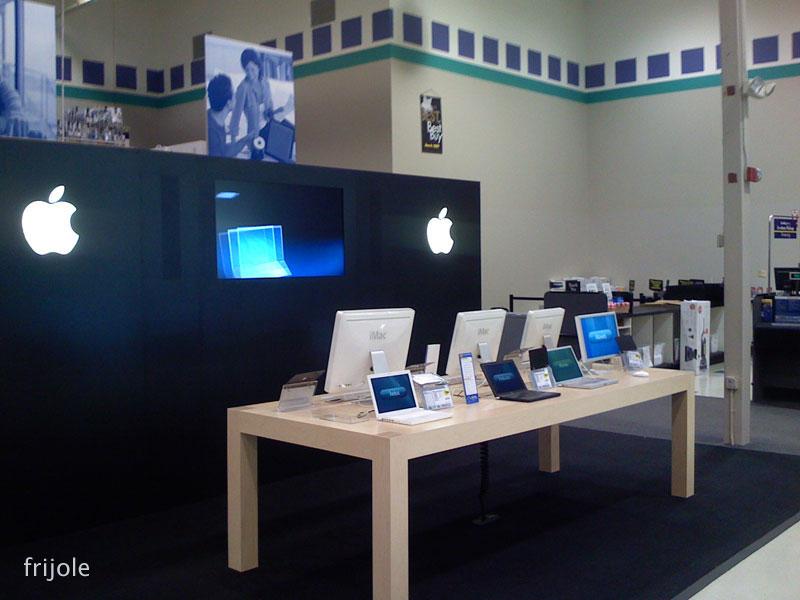 AppleInsider may earn an affiliate commission on purchases made through links on our site.
Apple and Best Buy have internally announced plans to scale Mac sales beyond their previously stated 600-store goal, but will soon face real estate-related obstacles that could challenge further expansion, AppleInsider has learned.
Thus far, the duo has established catchy store-within-a-store boutiques at approximately 500 Best Buy retail stores, according to comments made during Best Buy's recent quarterly conference call. That's up

">from about 200 stores

just twelve months ago, and close to the 600-store goal announced by Apple in January.
The elaborate kiosks showcase the better part of the Mac maker's personal computer lineup and vary in design by store. However, the most recently layouts (below) have featured mini theaters that are anchored by thick matte black walls with glowing Apple logos, embedded LCD screens and stereo sound systems. Mac systems are typically spaced graciously on trademark wooden tables, while accessories are hung on nearby racks.
People familiar with the ongoing program expansion say Best Buy and Apple are now striving to install Mac boutiques at all of Best Buy's stateside locations. The next phase was announced privately last month when the retailer issued an internal memo outlining plans to enroll 40 more stores in the program by the end of July. Once complete, Apple and Best Buy will have surpassed their stated 600-store goal, scaling Macs sales to approximately two-thirds of US-based Best Buy stores.
Growing the program beyond the July phase is where things may get tricky, those familiar with the situation say. They note that the remaining 300 or so stores are only around 30,000 square feet, considerably less those that have already gained Mac kiosks, which range anywhere from 35,000 to 50,000 square feet.
As such, those people say that planogram architects are struggling to devise a best course solution for working the sizable kiosks into the remaining floor plans. The matter is somewhat complicated, they add, by Apple's mandate that it be provided a prime location within each store by which the Mac boutique is clearly visible to shoppers. As such, it's possible that expansion could pause temporarily until a solution is found or a compromise made.
At the same time, however, any temporary slowdown in the US expansion is likely to be mitigated by the fact that Apple is now exploring Mac sales at some of Best Buy's international markets. For instance, the first Mac kiosk in mainland China cropped up at the Best Buy store in Shanghai's Xuhui this April. Best Buy has since said it plans to open three more of the Mac stores in China by the end of the year.
Though failed partnerships between Apple and major electronic retailers in years past led industry watchers to doubt the company's entry into Best Buy when it was reported in June of 2006, experts now cite the move as one of the larger forces helping to drive Mac sales growth.
Ben Reitzes, an equity research analyst with Lehman brothers who's been following Apple for years, says his checks indicate that Best Buy isn't just presenting the Apple image, but is actually pushing healthy volumes of Macs out of its in-store boutiques.
"We believe that Best Buy has helped Mac growth, culminating in reported 51 percent yearly unit growth last quarter overall for Macs," he said. "Our checks and NPD data back our view that sell through for Macs is strong at Best Buy, not just sell-in."
Globally, Best Buy operates more than 1,150 stores. In addition to locations in the United States, Puerto Rico, and China, the Richfield, Minn.-based retailer also runs shops that could serve as future Mac distribution points in Canada, Mexico and Turkey.
AppleInsider readers are encouraged to report their experiences at Mac-equipped Best Buy stores in the forum thread for this article.