Apple's App Store launches with more than 500 apps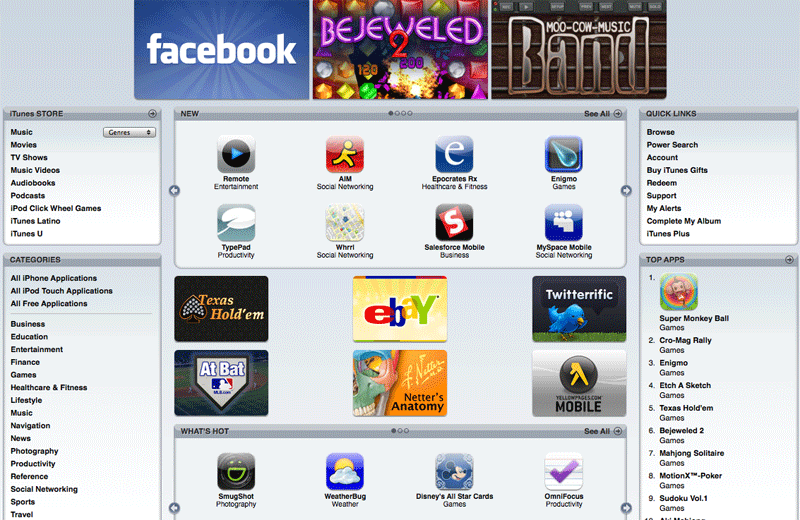 Apple said Thursday that more than 500 native applications are now available on the iPhone's App Store for use with the new iPhone 3G that goes on sale tomorrow.
Over 125 of those applications — or more than 25 percent — are being offered for free. According to Apple chief executive Steve Jobs, 90 percent of the remaining applications will cost just $9.99 or less.
"This is the biggest launch of my career," he said.
Browse all apps, or by section
Users can also browse the store by category listings: Business, Education, Entertainment, Finance, Games, Healthcare & Fitness, Lifestyle, Music, Navigation, News, Photography, Productivity, Reference, Social Networking, Sports, Travel, Utilities, and Weather.
Apple said many of the new applications take advantage of iPhone's large display, Multi-Touch user interface, fast hardware-accelerated 3D graphics, built-in accelerometer and location-based technology.
Unsurprisingly, the top free application at the moment is Apple's own new iTunes Remote, with which you can "control the music on your computer or Apple TV from your iPod touch or iPhone. Play, pause, skip, shuffle. See your songs, playlists, and album art on your iPod touch or iPhone as if you were right in front of your computer. Remote works with your Wi-Fi network, so you can control playback from anywhere in and around your home."