App Store downloads led by free apps; one quarter are games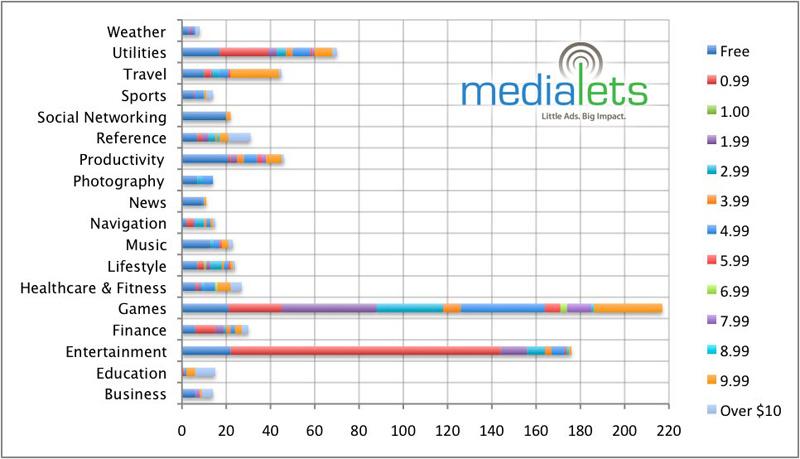 AppleInsider is supported by its audience and may earn commission as an Amazon Associate and affiliate partner on qualifying purchases. These affiliate partnerships do not influence our editorial content.
Revealing the bias towards younger users, mobile ad group Medialets has tracked iTunes' App Store and finds that free apps rule the download charts, but that game developers are thriving in the paid world and that some developers should already be successful.
With Apple having pulled actual download counts just hours after the App Store was accessible to the public, the marketing firm uses the number of ratings for each app to estimate the actual demand.
Of the top ten most rated apps available for the iPhone and iPod touch as of press time, just one — Super Monkey Ball — costs users any money. The rest are a mixture of free entertainment-related software, games, and social networking tools. The chart includes category leaders such as Apple's own Remote software, which leads with 1,320 ratings, as well as AIM and Facebook.
A higher average rating for a frequently rated app also provides a clue as to the real popularity of an app, Medialets tells AppleInsider.
Apple has also seen the average paid price for a posted app decline in just a matter of days. While a typical paying customer would have spent $6.03 on software from the App Store on Friday, with just 500 apps available, the number has since decreased a valuable 56 cents to $5.47 with many skewing to near-free downloads.
The early statistics suggest a heavy, if expected, leaning towards free apps in the store, and particularly for the social networking category, where free apps are the rule and paid apps are often premium versions of free apps.
Medialets' breakdown of App Store titles by category, number, and price.
For paid content, however, both customers and developers are skewing towards games. Of the 802 total apps counted in the store by Sunday, 27 percent are games, with just 21 of them available for free but nearly all available for $10 or less.
Even for apps well out of contention for the top spot, however, the income is still likely to be worth the effort. For Super Monkey Ball creator Sega, its pioneering iPhone game is estimated to have earned about $4.9 million in its first weekend based on relative data and its $9.99 official price; the $69.99 aviation weather guide ForeFlight Mobile, however, may have generated $3.4 million despite selling far fewer copies.
More modest apps are still likely to have generated significant amounts of income, with a game like PopCap's Bejeweled 2 netting about $627,000 based on the predictions.