Taiwanese blog claims photos of Apple's next-gen 13-inch MacBooks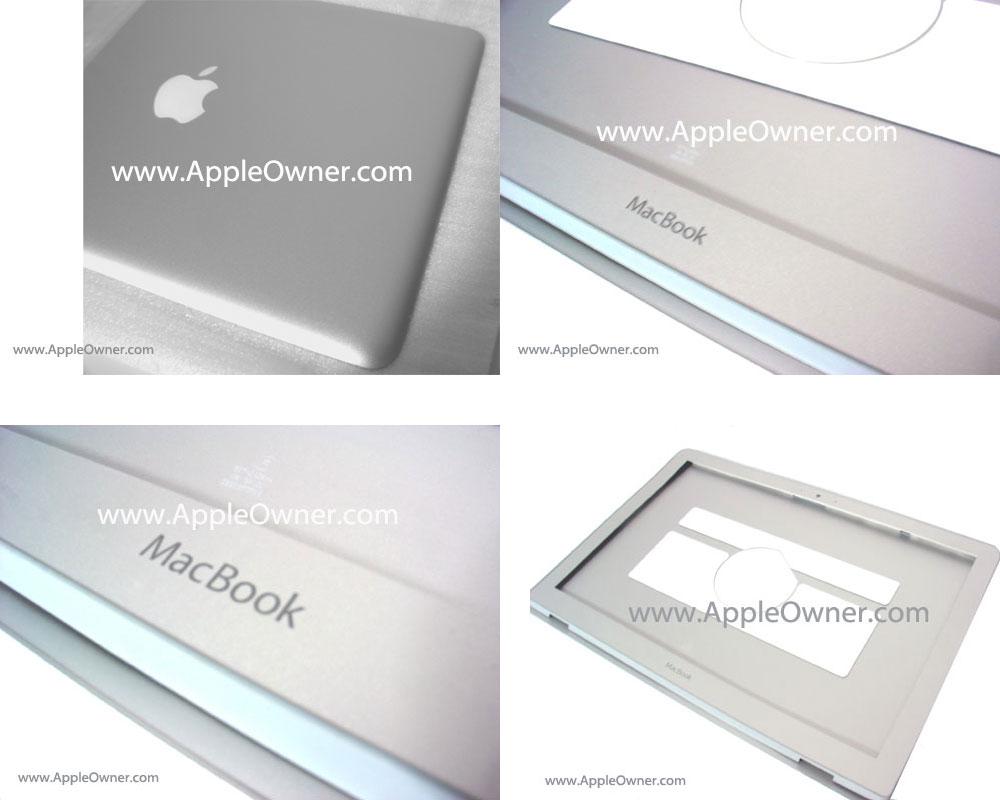 A Chinese-language blog responsible for leaking photographs of a genuine next-generation Apple 15-inch MacBook Pro casing has posted a similar set of photos purported to be that of the company's upcoming aluminum 13-inch MacBooks.
The four photos (below) published by Apple.pro show a hollow 13-inch aluminum notebook display casing with the word "MacBook" imprinted on the bezel.
Last month, the same blog published a single photo showing the empty shell of what was said to be Apple's next-gen MacBook Pro enclosure. People familiar with the upcoming notebooks later confirmed to AppleInsider that the enclosure in the photo was indeed authentic.
Both sets of photos show notebook casings that closely conform to AppleInsider's descriptions of Apple's upcoming MacBook and MacBook Pro refreshes that were first published back in April.
In that report, it was noted that the MacBooks would undergo the most significant metamorphosis, shedding their plastic enclosures for ones constructed from more eco-friendly materials such as aircraft-grade aluminum and stainless steel.
Meanwhile, the new MacBook Pro was later revealed to include a long and narrow battery cover spanning the entire length of the notebook and comprising approximately 25 percent of the bottom casing, bleeding out and over one edge.
A small, rectangular latch positioned just below the battery area on the bottom of the new notebook will release the battery cover, providing access not only to the MacBook Pro's lithium-ion battery but also its hard disk drive, those familiar with the upcoming design have said.
The verdict is still out on whether the latest round of photos are indeed that of Apple's upcoming 13-inch MacBook. It should be noted that Apple.pro appears to have obtained the photos from this reseller website, which lists the mysterious new casing in its parts database.
Unlike the earlier MacBook Pro photo, the new photos also appear soft or a digitally altered. The "MacBook" type on the bezel appears as if it may be off-center. In general, the casing itself bears many similarities to that of the MacBook Air. Therefore, readers should take the blog's latest claims with some caution.
Photos of a disassembled MacBook Air display casing taken from iFixIt's disassembly guide have been posted below for comparison.