IBM expands Lotus Notes Mac support to iPhone (screenshots)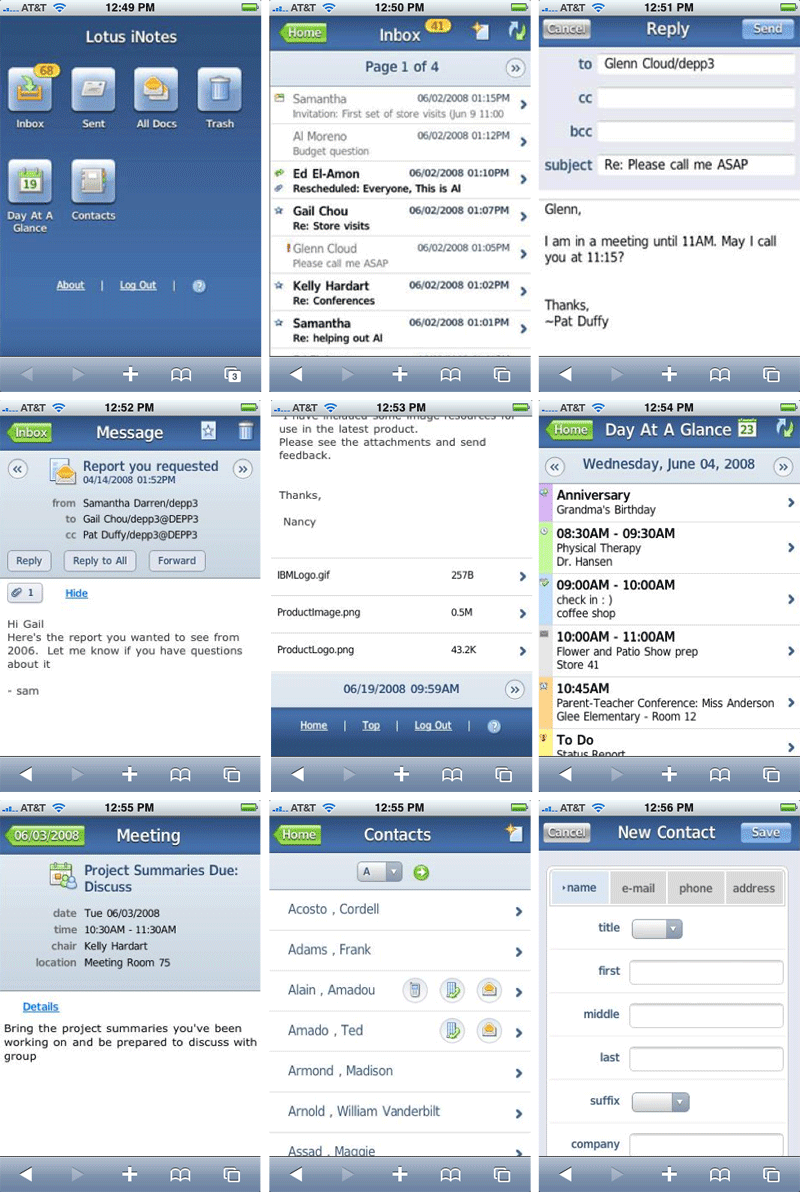 IBM has unveiled a sneak peek of its new Lotus iNotes, a web app client for its Lotus Domino messaging server to bring email, calendar, and contacts to iPhone. The move fulfills rumors of customized iPhone support for Lotus Notes and demonstrates IBM's evolving interest in Apple within the enterprise.
Planned for delivery later this year, Lotus iNotes is built upon IBM's existing Lotus Domino Web Access infrastructure. The company's web site invites users to "bring the enterprise to your Apple iPhone" and says the software will deliver a "rich Apple iPhone user experience."
IBM published a series of screenshots of the tentative iNotes user interface, with the disclaimer that details are subject to change without notice. Those changes may likely include closer adherence to Apple's Human Interface Guidelines for the iPhone, as described in Apple's Introduction to Safari Web Content Guide for iPhone.
The images below are AppleInsider's composited representations of what the Lotus iNotes client will look like in the Safari browser, including support for email attachments, calendar events, and contacts.
The potential of a new platform
The original Lotus, which IBM purchased in 1995, stumbled in the mid 80s in part due to its weak support for the new Macintosh. The company then held a lock on the DOS spreadsheet market with Lotus 1-2-3, but its equivalent product for Apple's new Mac, called Lotus Jazz, failed miserably in part due to its lack of following Apple's human interface guidelines. Jazz was also expensive, late, and buggy.
That misstep allowed Microsoft to enter the Mac spreadsheet market virtually unchallenged, and rise from being a DOS license distributor into a new role as a significant desktop software developer with Excel on the Macintosh. Microsoft later ported Excel to the DOS PC using its Windows environment, and quickly ate into Lotus' 1-2-3 sales.
Lotus finally ported its 1-2-3 flagship to the Mac in 1991, but by then it was too late. After IBM purchased the remains of Lotus four years later, the pair floundered for years in the desktop software market, with Lotus' SmartSuite continuously losing market share to Microsoft's Office, in large measure due to the fact that Microsoft could sell Office licenses directly to PC makers tied to its dominant Windows platform.
Recently, IBM has embarked on a new strategy that backs Sun's OpenOffice suite. IBM is marketing its distribution of the open source alternative to Microsoft Office under the name Lotus Symphony, and has announced plans to provide the suite for free to Mac users, as well as closely integrating the productivity suite to its Lotus Notes messaging server.
Support for the iPhone in Lotus Notes is only IBM's latest step in investing in Apple's platforms as a competitive alternative to Microsoft's Windows. An AP report from January cited IBM spokesman Mike Azzi as noting that his company has "a lot in common" with Apple. "We're going to cross-pollinate," he said.
An initial study at IBM Research, which started in October of 2007, found that 86% of those participating wanted to keep their MacBook Pro laptops over returning back to IBM ThinkPads running Windows. It has been easier learning the Mac than learning Vista, one participant reported. IBM has since expanded its Mac pilot program.
Enterprise a nearly untapped potential for Apple
Despite enthusiastic interest in Macs from users and a strategic competitive interest in Windows alternatives from Apple among executives, IBM currently has a very small share (less than 1%) of its international workforce using Macs. Many other companies similarly have a small proportion of Macs in their installed base.
However, Apple's dynamic and sustained growth in other markets, including its education stronghold and the much easier to enter consumer market, are having an effect on adoption in the enterprise. Sales of Apple's Mac computers have sharply risen at a rate of between 30 and 40% year over year (Mac market share), in an overall PC market that is barely growing by 3-4%.
A survey of 750 global IT administrators and C-level executives by the Yankee Group found that nearly four out of five businesses — or approximately 80% — have at least a few Macs and the Mac OS X operating system installed in their networks, and nearly one-quarter said their firm had a "significant" number of Macs installed in their network of more than 30 to 50 units.
IBM's iNotes is the latest example of how the iPhone is helping to stoke interest in Apple's hardware, software, and development tools in the enterprise. In its initial iPhone 2.0 announcement, Apple stated that over a third of Fortune 500 companies had sought access to the company's ongoing iPhone Enterprise Beta program.