Report: Mac adoption expanding in the enterprise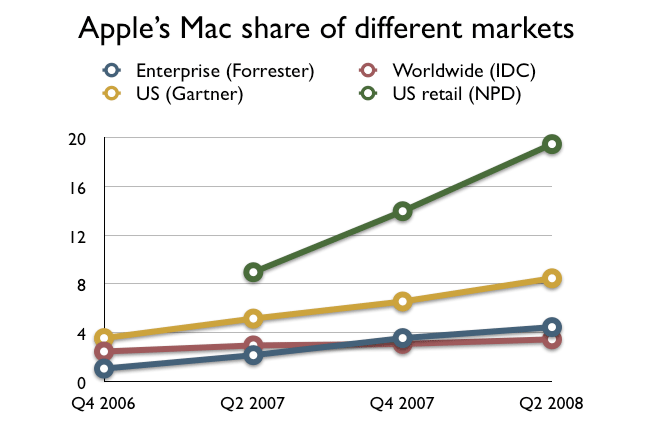 AppleInsider may earn an affiliate commission on purchases made through links on our site.
Despite the lack of any clear and obvious enterprise strategy at Apple, analyst Benjamin Gray of Forrester Research reported an incremental gain in enterprise Mac use among the 2,500 organizations the company tracks, representing 50,000 end users.
"Apple's singular focus on user experience has resulted in some success in the enterprise—without even trying to break into the market," Grey wrote in a report cited by eWeek on Friday, noting that Mac deployment in the enterprise has climbed from 1.1 percent in October 2006 to 3.6 percent in October 2007, and by June 2008 reached 4.5 percent. That's much lower than Apple's nearly 20 percent share of the US consumer PC retail market or its 8 percent share of the entire US PC and server market, but significantly higher than Apple's 3.5 percent share of all PCs and servers sold worldwide.
According to Grey, enterprise Mac adoption has been pushed upward by consumer demand. "Strong iPod branding and sales have led to greater consumer sales of Apple PCs," the report stated. "In turn, this has lured enthusiasts and small workgroups with supple IT departments beyond the standard domain of design and media."
That increase is bucking the established mindset that gives Macs the cold shoulder in business settings. "Enterprises often see Macs as expensive solutions that add unwanted variety to an already complex IT management and support operation, while providing little in additional productivity," Grey wrote.
Despite the prevailing negative perception of Macs among business users, many corporations are now investigating increased use of Macs and looking at platform diversity as a strength, not a problem. Additionally, the enterprise platform is slowly shifting away from Windows-based hardware and toward web-based standards that can run anywhere. "Emerging client virtualization solutions shift the focus from standardized hardware to more secure and manageable PC architectures and operations," Gray wrote.
While Apple has promoted its move to Intel hardware and new Mac's ability to run Windows software natively to consumers, it has not expended much effort toward marketing this message directly to enterprise customers outside of a few key markets such as education, hospitality, and video production. Businesses seem to have grasped this advantage themselves. The Forrester report revealed that Intel Macs climbed from from 63.2 percent to 79.9 percent of the installed base of Macs within the enterprise in just an eight month period from October 2007 to June 2008.
In addition to consumer mindshare captured by the iPod and the increased compatibility of Intel Macs, the iPhone is also expected to ignite a halo impact over the enterprise. In its initial iPhone Software 2.0 announcement, Apple reported that over a third of Fortune 500 companies had sought access to the company's iPhone Enterprise Beta program.
In contrast, while Microsoft has been pushing hard to get companies to adopt Windows Vista, its growth in the enterprise has been well below expectations. The company originally set a goal of 20 percent adoption by the end of 2007, but Forrester's study found only 5 percent by October 2007 and 8.8 percent by June 2008.