New photo may reveal more of Apple's next-gen MacBook Pro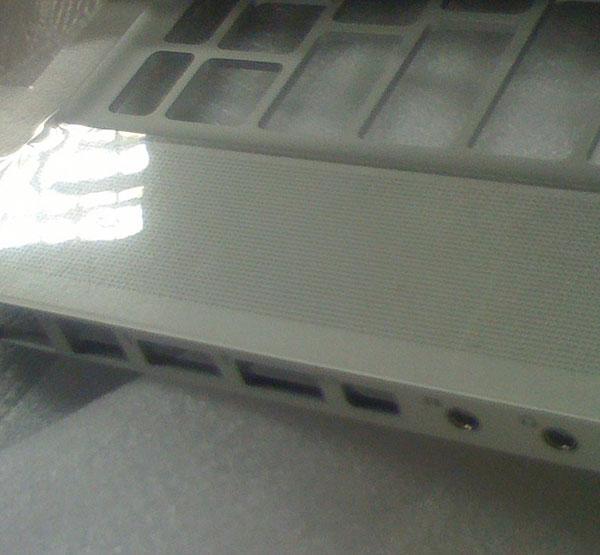 AppleInsider may earn an affiliate commission on purchases made through links on our site.
A photo originating on a Chinese website and making the rounds on the Web this afternoon resembles descriptions of Apple's next-generation MacBook Pro, which is expected share design similarities with the company's MacBook Air and aluminum iMacs.
The photo depicts what could be the left-hand side of a 15- or 17-inch MacBook Pro with a new speaker grill design and keyboard cutout that matches the one already employed by the company's 13-inch MacBook Air.
This would appear to conform with expectations that both Apple's new MacBook and MacBook Pro would borrow design cues from the most recent iMacs and MacBook Air, as was outlined in an AppleInsider report in April.
The port layout of the notebook shown in the photo also matches changes outlined in AppleInsider report from a couple of weeks ago, which noted both the FireWire 400 port and 28-pin DVI-I (Dual Link) port both appeared to be missing on the next-generation MacBook Pro, with the latter being replaced with what appeared to be a mini-DVI port.
The bottom of the casing is clearly missing from the latest photo, though a photo (below) of both the top and bottom of the next-generation 15-inch MacBook shell, authenticated by people familiar with the new systems, surfaced back in July.
AppleInsider also recently received an anonymous report that Apple was actively manufacturing new MacBook Pros that included between "2000 and 3000 micro-perfed holes for the speakers." Production is said to have been underway for quite some time, though last minute glitches have reportedly caused some minor setbacks, the source said. The grill description matches the latest photo.
Possible partial shot of a next-generation MacBook Pro | Credit elesson.com.cn