Nokia leans on new N97 as best hope for an iPhone rival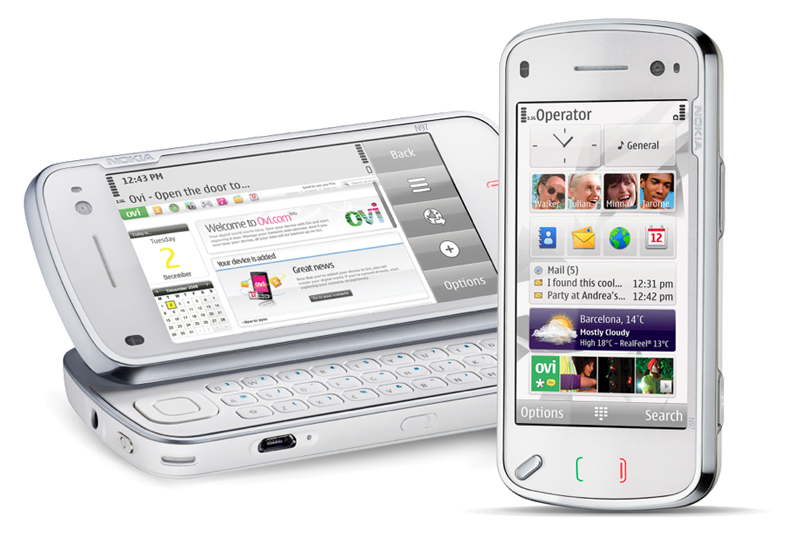 AppleInsider may earn an affiliate commission on purchases made through links on our site.
At a special event in Spain, Nokia has revealed the N97, which is just the second touchscreen phone in company history — and potentially the company's one real chance at reversing market share losses to Apple's iPhone.
As the successor to the N95 and this year's N96, the N97 is Nokia's first truly high-end smartphone to use a touch interface and is technically far superior to the 5800 XpressMusic that earned the distinction of being the phone maker's first touchscreen handset just two months ago.
Unlike its more basic sibling, the new model is aimed at pleasing heavy-duty Internet users and not just music enthusiasts. Its trademark feature is a new, sliding keyboard that tilts out from the side of the phone for typing. It also adds a larger 3.5-inch, 640x360 touchscreen, a sharper 5-megapixel camera with a better flash, and — in a likely first — 32GB of built-in flash memory. A card slot gives room for yet another 16GB of space.
With 3G, a digital compass, GPS, and Wi-Fi also coming along for the ride, the phone is being marketed first and foremost as a social networking device which is constantly aware of where it is and what's happening with its owner's friends. The home screen appropriately has a new interface with widgets that supply an at-a-glance view of contacts from Facebook and other services.
It also includes a full HTML web browser with Adobe Flash, cut-and-paste text, video recording, and options for a removable battery and storage that are either already in place or missing from certain rivals, Nokia says. Apple's patents nonetheless prevent it from using multi-touch.
But while the N97's features and overall focus are different than those on the iPhone, the chrome-trimmed, uncluttered design and certain interface elements for Nokia's new offering also share more than a few passing resemblances to its American-born rival — including, as blogger Robert Scoble notes, a similar photo browser.
"You can see Jonathan Ive's challenge taken up all over the device," he says.
The debut ultimately reveals the N97 as Nokia's real answer to the iPhone and comes just as the Finnish company finds itself in the unfamiliar position of having to stem a rapid loss in market share, much of which can be attributed to Apple. Compared to the year before, Nokia has lost 20 percent of the smartphone market this summer and can pin the blame largely on iPhone 3G's appearance this July.
Before it published its quarterly results earlier in the fall, Nokia itself had warned that unnamed competition, now widely known to be Apple, was undermining its market share by using heavy carrier subsidies to beat Nokia's pricing.
However much closer the N97 may bring Nokia to having its own ultimate touchscreen phone on a hardware level, the details of the launch have already been deemed problematic. The unlocked, unsubsidized phone will cost 550 Euros, or nearly $700; this is as much or less as the iPhone costs in countries that allow contract-free sales but about 75 percent more expensive than the 5800 XpressMusic.
And though attendees of the iPhone's Macworld 2007 debut were frustrated when the first Apple cellphone wasn't slated to ship for another five months after it first became public, the N97 isn't scheduled to ship until sometime in the first half of 2009 — and then while largely excluding the US. As is customary with most Nokia phone introductions, the N97 lacks support for AT&T's 3G network.