Apple seeks trademark on "OS X" without the "Mac"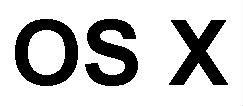 Seemingly cementing a move first hinted at during the World Wide Developers Conference, Apple has filed for a trademark for its OS X operating system but without the "Mac" prefix that has accompanied the name since its inception.
The Cupertino-based company initially filed for its trademark in Trinidad and Tobago less than a week after the June 2008 conference, where lobby banners first indicated a split where Apple would distinguish between OS X Leopard, the version of its operating system for traditional computers, and OS X iPhone, the modified platform that supports both its namesake cellphone and the iPod touch.
The software label also passed through a southeast Asian trademark office in November, but as of this writing remains under review.
Apple's reasons for trademarking at this stage aren't entirely clear, though the most conspicuous is its current product strategy: as many of its devices are running some variant of the FreeBSD-based software but operating well outside the bounds of ordinary Macs, the company may be under some self-imposed pressure to rebrand its flagship software in a way that allows it to enforce its trademarks without tying itself to a particular software revision or product line.
A formality in trademark would also mirror steps to rebrand the company itself that were first reveled when chief executive Steve Jobs took to the stage to introduce the original iPhone in January 2007. With the Apple TV in the living room and the iPhone in people's pockets, the executive argued that it was time for the company to alter its name and drop the "Computer" badge to become Apple Inc., reflecting its new general technology focus.
An image accompanying the filings.
Still, the potential trademark change represents a formal break from tradition for a company that, in 1999, deliberately kept the "Mac OS" badge for its radically altered operating system to maintain familiarity — a move the company may no longer feel is necessary today.