Amazon introduces Kindle 2 with text-to-speech feature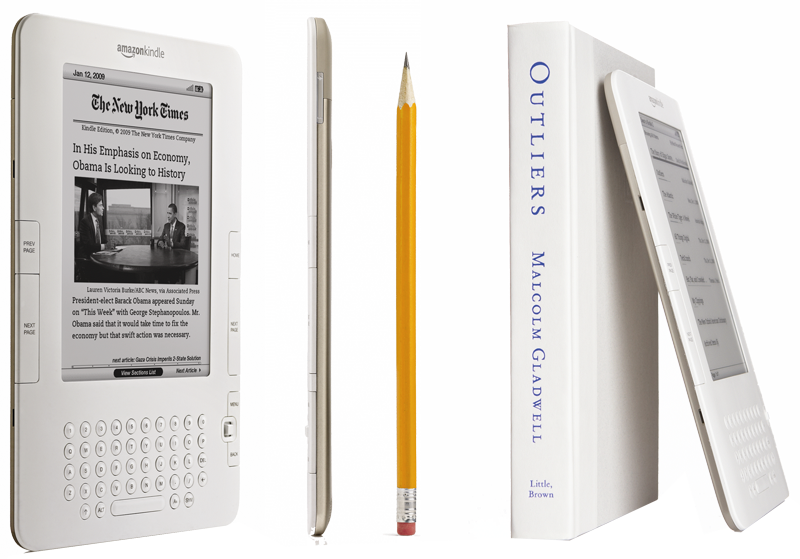 Amazon today revealed its Kindle 2 wireless reading device that will go on sale later this month with a thinner design, longer battery life, faster page turns, more storage, sharper images, and a new text-to-speech feature.
In a press event at New York's Morgan Library, Amazon founder and chief executive Jeff Bezos told attendees that Kindle e-books now make up 10 percent of the online retailer's unit sales, and he was quick to point out the new Kindle is thinner than the iPhone by 0.12 inches, or 25 percent.
"Kindle 2 is everything customers tell us they love about the original Kindle, only thinner, faster, crisper, with longer battery life, and capable of holding hundreds more books," he said. "If you want, Kindle 2 will even read to you — something new we added that a book could never do. While we're excited about Kindle 2, we know that great hardware is useless without vast selection. That's why the Kindle Store offers customers over 230,000 books."
During the press event a slide outlined Amazon's vision to make "every book ever printed in any language all available in less than 60 seconds" with the Kindle.
New buttons on the "pencil thin" Kindle 2 make it easier to turn pages with either hand. Usability and clumsy navigation was a major complaint about the original Kindle (review), and Amazon is addressing those concerns with its latest design.
A new "5-way controller" is intended for more precise note-taking and highlighting as well as faster jumps between articles and sections of newspapers. Unfortunately, the "official Amazon.com cover", with an integrated attachment hinge and leather cover, will be sold separately for $29.99. This is probably a concession to third-party suppliers, as Amazon also said that Kindle 2 covers will be sold by Patagonia, Cole Haan and Belkin.
Amazon calls "Text-to-Speech" an "experimental" feature that will convert text on the page to spoken words, and also save the spot on a page in case a reader wants to switch back and forth between reading and listening. Users can choose between male and female voices and specify the reading speed. Anything that appears on the device's screen, from newspapers to blogs to books, can be read aloud.
Meanwhile, Amazon's new "Whispersync" technology promises to sync Kindle 2 and the original Kindle automatically for easy transitions. Users can pick up a Kindle at home, read a chapter or two, then drive to work where they have a Kindle 2. Wherever you left off will be synced to the other device with no flipping forward and backward to find your place. Amazon says Whispersync will make it easier to transition to the new Kindle from the old model or to use both together. Eventually, support for "a range of mobile devices" will be provided, presumably smartphones, but no specifics are yet available.
The New Oxford American Dictionary is also built in with 250,000 word definitions that appear instantly at the bottom of the page.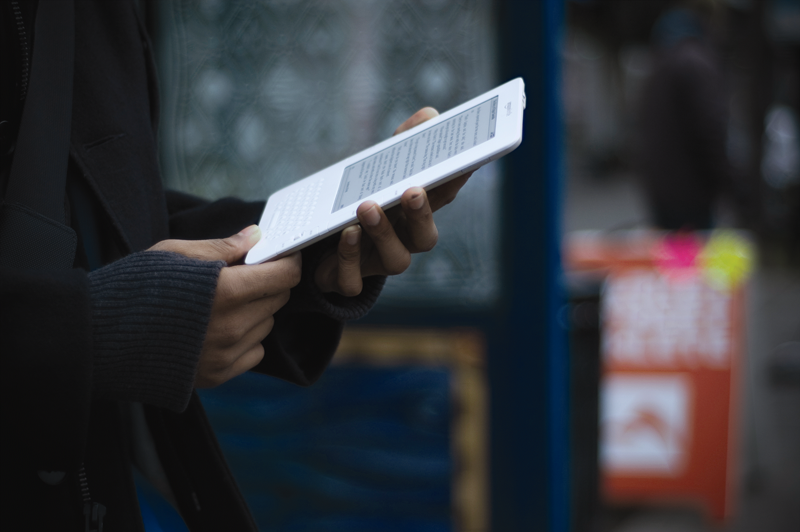 Display, Battery Life, and Connectivity
Whereas the Kindle 1 offered only 4 shades of gray on the display, the Kindle 2 is capable of showing 16 shades on a six-inch, 600 x 800 electronic paper display. There is no backlight, helping provide 25 percent longer battery life. Amazon claims four to five days of reading on one charge with wireless turned on, two weeks with wireless off. The company also claims pages will turn 20 percent faster.
The national 3G delivery network called Whispernet remains unchanged in a continuing partnership with Sprint that keeps the service available for no extra charge to Kindle owners. Amazon says it has been expanded to cover all 50 states with no PC, Wi-Fi hot spot, or syncing necessary.
The Kindle 2, with its 2 GB of memory, can hold more than 1,500 books compared to the original's 200. Books bought before are backed up to an Amazon.com account, so customers can wirelessly re-download previously purchased titles as necessary.
The original Kindle launched with 90,000 available e-books, while Kindle 2 owners will have more than 230,000 from which to choose. New authors added include John Steinbeck, C.S. Lewis, Beverly Cleary, Martha Stewart, Terry Goodkind, and Spencer Johnson.
Author Stephen King has also written a plainly promotional novella, "Ur", whose protagonist "can't seem to get his ex-girlfriend's parting shot out of his head." The parting shot? "Why can't you just read off the computer like the rest of us?" The lovelorn college English instructor then places an order for a Kindle, and, we assume, lives happily ever after. Pre-orders will get the novella automatically downloaded to their device.
Amazon has also rolled out support for more magazines, newspapers, and blogs. Newspaper subscriptions range from $5.99 to $14.99 fees per month, magazines are priced at $1.25 to $3.49 per month. Wireless blog delivery starts at $0.99 for each per month with a free two-week trial.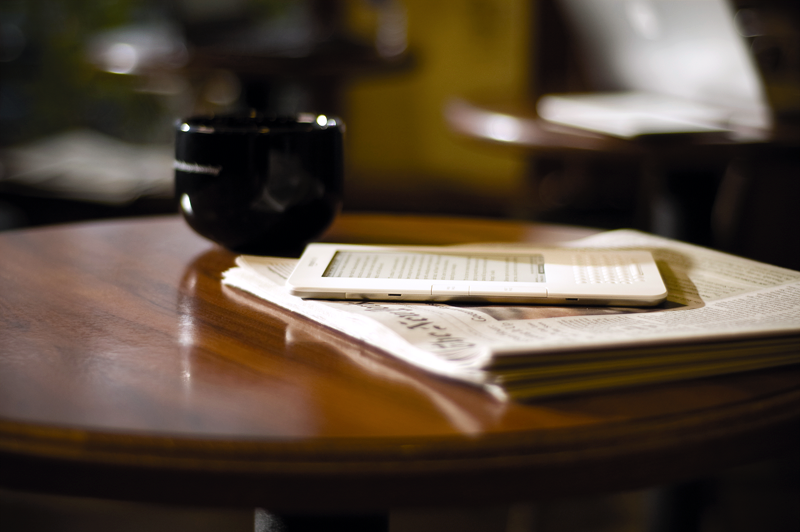 The Kindle 2 will sell for the same price its predecessor most recently went for, $359. (The original device launched at $399.) Customers still waiting on unfulfilled Kindle 1 orders will be automatically upgraded to Kindle 2, with the devices scheduled to begin shipping February 24. Current Kindle owners are also invited to pre-order before midnight tonight to receive priority.