Emerging iPhone contenders charted, compared by RBC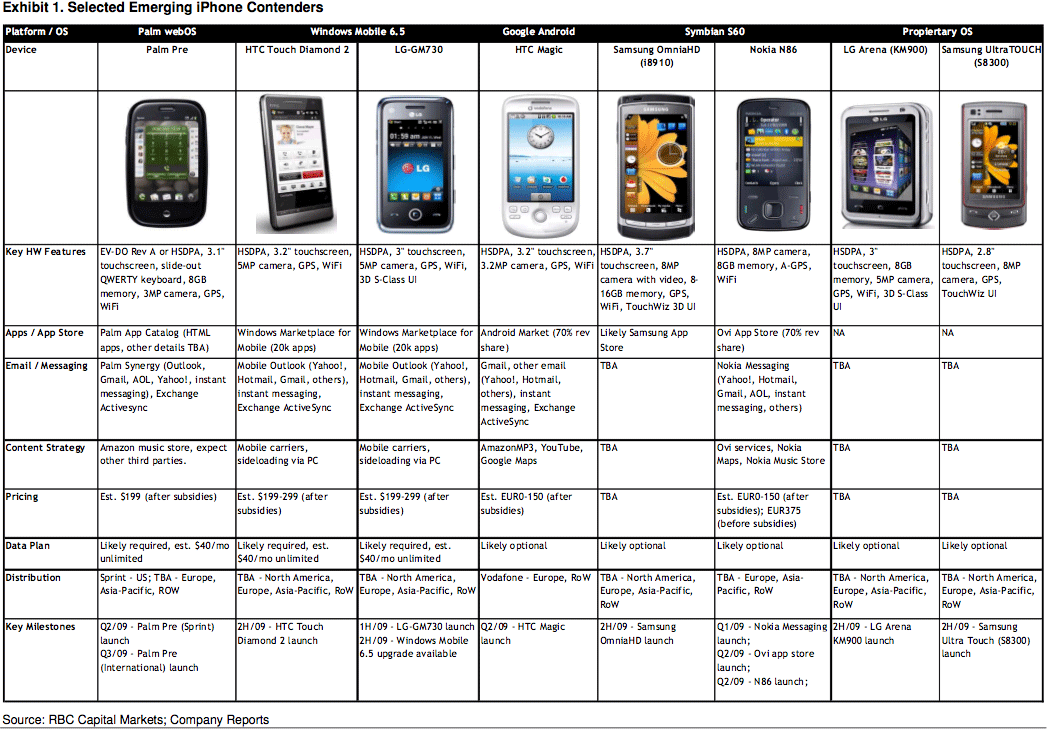 With Apple's influence hanging over the Mobile World Congress event this week, the Royal Bank of Canada has released a comprehensive comparison chart of eight contenders that threaten to steal some of the iPhone's customers.
Though the firm still sees the iPhone as solidly superior to its competition, analyst Mike Abramsky told clients he's still concerned about the risk posed to Apple with the crop of newcomers.
"Some — notably Google, Palm, Microsoft, HTC — appears to offer 'good enough' functional alternatives, including PC-like internet browsing, consumer UI/navigation, touch manipulation, messaging, applications/services, carrier functionality — with alternative hardware form factors (e.g. keyboards, sliders, etc) that may appeal to some potential iPhone customers," he wrote.
Abramsky believes multiple launches on North American and European carriers, expected in the second half of this year, could force Apple's hand on pricing and marketing as the newcomers compete for mindshare and carrier shelf space. The analyst said that any new iPhone models — referring to his research note from earlier this month — could enter a "more competitive landscape" than the previous versions of Apple's popular smartphone.
"We see possible revaluation...on revised growth/margin expectations, lowered visibility, and renewed uncertainty re leadership," he concluded.
Abramsky isn't the first Wall Street analyst to suggest that Apple may alter its iPhone pricing structure when a third-generation model hits the market sometime this year. Earlier this month, both Kaufman Bros' Shaw Wu and Bernstein's Toni Sacconaghi issued similar comments. Wu cited sources who said Apple and AT&T were discussing the possibility of offering customers more data plan options, including some restrictive but more affordable plans, while Sacconaghi simply cited comments from a one-on-one meeting with Apple's acting chief executive Tim Cook that suggest the company is looking into "different pricing/price points" for the hardware itself.
RBC Capital surveys the crowded landscape of iPhone's upstart competitors[an>
Abramsky, taking a much more bearish view than most other Wall Street watchers who follow the Cupertino-based iPhone maker, maintains his Underperform rating and $70 price target on shares of AAPL.