SoftBank now giving away iPhones in Japan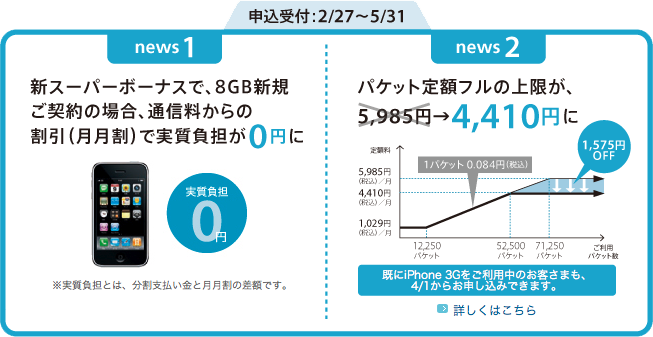 In a bid to possibly clear inventory, combat slumping sales, or both, SoftBank Mobile's new "iPhone for Everybody Campaign" is offering customers in Japan a free iPhone 3G with a two-year contract through May.
Announced on the Japanese carrier's website, the promotion offers significant savings for customers interested in upgrading to the iPhone in Japan. The 8GB version of Apple's popular smartphone is now free (original release, translated) with a two-year contract that can be tied to one of three promotional plans including basic, premium, or student. The 16GB iPhone, meanwhile, isn't paid for in full up front. Rather, it costs 480 yen per month ($4.96 in U.S. dollars) for a total price over the two-year contract of ¥ 11,520 ($119.11).
SoftBank is adding even further incentive for customers to buy. The company's typical data plan is being discounted from the normal ¥ 5985 per month to a maximum of ¥ 4410. In U.S. dollars, that's a cut from $61.88 to $45.59 per month. When the carrier first partnered with Apple to start selling iPhones back in July, the 8GB model was available for the equivalent of $238.21 while its 16GB cousin was $357.32.
Seen together with Best Buy's discounts this week, the move could be geared toward clearing inventory ahead of an expected June announcement of a new iPhone handset. The SoftBank promotion expires the final day of May. Apple's Worldwide Developer Conference has recently been held in June and has twice served as a launch pad for new versions of the touch-screen handset.
Another possible explanation for the discounts is that Apple's iPhone partners may be feeling pressure to meet sales quotas for the iPhone 3G tied to their contracts with Cupertino-based company before a revised model his the market. Those quotas, which at one time may have seemed obtainable, may now be more of a burden given the slumping global economy and a worldwide pullback in consumer spending.
In general, analysts on Wall Street are expecting Apple this quarter to sell the fewest number of iPhone 3Gs since the handset was introduced last summer. Estimates have ranged anywhere from 2 million units to 3.5 million units.