Benchmarks of 2009 iMacs, Mac minis show negligible speed-ups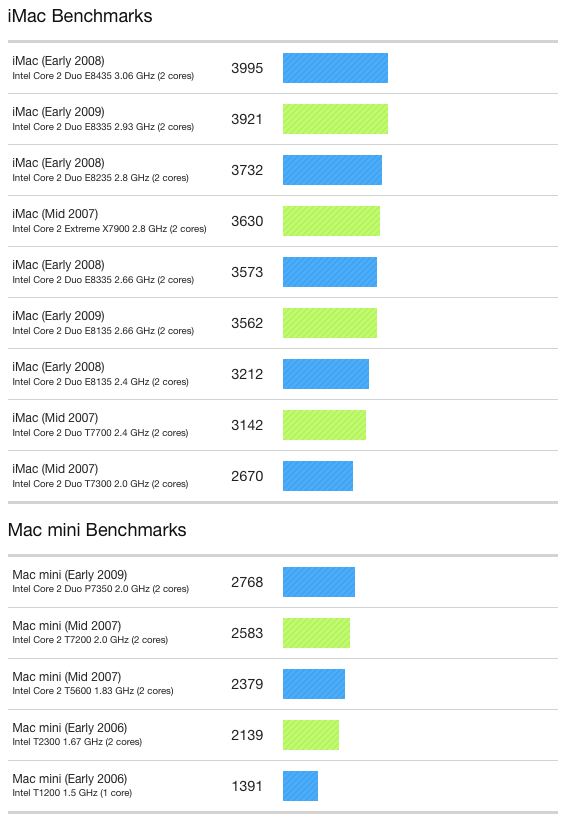 Although Apple is touting the performance of its new iMac and Mac mini desktops, a new test shows that newer processors from Intel have had little impact on the computers' true speed.
Benchmarks run by Primate Labs through its own Geekbench test suite have confirmed that any benefit from the updated Core 2 Duo processors comes purely through clock speed.
When clock speeds are identical between systems, such as with the new low-end 2.66GHz iMac and a mid-range predecessor from last year, the difference in test scores becomes almost unnoticeable, coming down to 11 points in the case of the two all-in-ones. Even the 2.93GHz iMac, which replaces a 2.8GHz model, has only a 189-point advantage — or about a 5 percent speed difference that directly maps to the higher clock rate.
The largest relative gain in tests is for the Mac mini, which still only gains about 7 percent despite leaping two generations ahead in processor technology at 2GHz.
Primate isn't shocked by the results as it notes that both of the home computers' performance is dictated by a processor architecture fundamentally identical to what has existed for the past two years. This won't advance for the notebook-grade chips used by Apple until Intel brings its "Nehalem" architecture to the processors through the "Calpella" platform due this summer. As such, the test developer warns that those solely interested in clock speed may want to avoid buying new.
Geekbench tests of the 2009 iMac and Mac mini updates, courtesy of Primate Labs.
"You might be better off getting a discontinued (or refurbished) previous-generation Mac rather than one of the new Mac models," the company says.
However, Primate also acknowledges that Geekbench only tests CPU- and memory speed-intensive features such as floating point math, not video performance. As a result, it's possible for the systems to be much faster in 3D and other areas that depend as much or more on graphics processing, such as the Mac mini's 5X speed-up in moving from the Intel GMA 950 chipset to NVIDIA's GeForce 9400M. The iMac's GeForce 9400M and GT120 are also claimed to accelerate performance over the Radeon HD 2400 and 2600 in older versions.
The tests also downplay disk-related factors such as newer hard drives and more RAM; most of the new Macs have twice as much memory as their predecessors and don't have to page to disk as often as earlier systems.