CBS to stream March Madness games live to the iPhone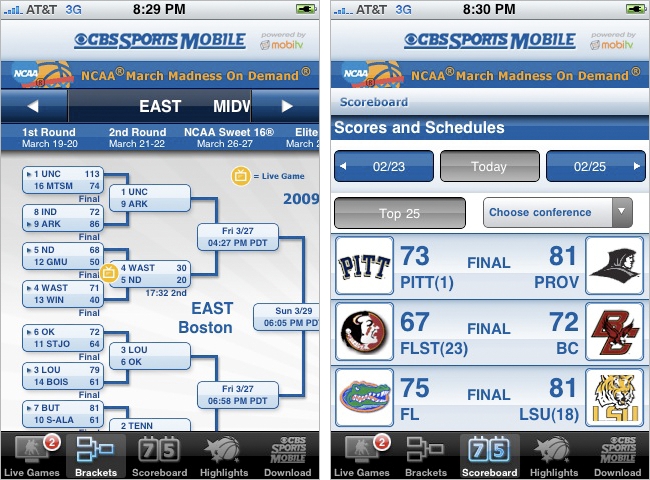 CBS Sports announced Thursday plans to stream NCAA March Madness basketball games live to Apple's iPhone and iPod touch through a new application, but with a WiFi-only requirement and price tag of $4.99, many fans may choose to watch tournament for free on their Mac, PC, or big TV.
The app will feature a real-time graphical bracket with game match-ups, regions, and scores. Upon the completion of each game, video highlights will be available on demand. Meanwhile, stat junkies might enjoy the CBSSports.com Edge Matchup game previews with full team-by-team analysis and matchup comparisons. Breaking tournament news will also be available through the app along with the standard box scores, game recaps, and team stats.
The video streams themselves won't be relegated to "alternate view" camera angles that have become customary for other sporting events. Instead, CBS said it will deliver full broadcasts and play-by-play in sync with their network television broadcasts, which of course will include commercial breaks. However, users must have access to WiFi in order to watch the video. A 3G or EDGE connection will only receive streaming audio of the game.
"As long as you have a Wi-Fi connection, you can see the games wherever you go - at work, on the road, at the stadium or even at home," CBS said in a widely syndicated press release on the initiative. "Catch the college basketball upsets and buzzer beaters as they happen, no matter where you are."
The network warns that the app will expire at the conclusion of the NCAA tournament on April 6, at which point users will likely need to trash it from their home screens to avoid wasting precious screen real estate. Meanwhile, reasons behind the WiFi-only restriction aren't entirely clear given that CBS has demonstrated the ability to stream full television shows over over 3G through its recently introduced CBS Interactive iPhone app. Possibilities would presumable include intervention from the NCAA, AT&T, CBS Mobile itself, or technical restrictions such as streaming quality, especially on EDGE.
Since users must be close to a wireless network, and few are likely to have access "on the road" or "at the stadium," college basketball fans may opt for free streaming video on their computers instead, saving the $5 and watching on a larger screen. In this scenario, the only viable reason for purchasing the app appears to be a method for avoiding the virtual waiting room during heavy demand.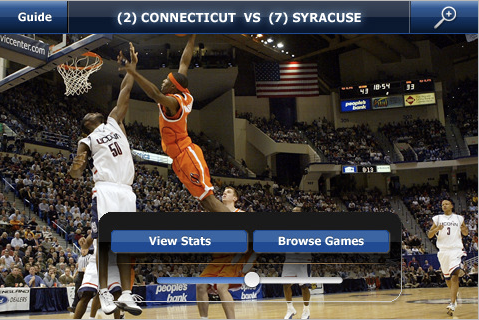 Viewers choosing their computer may be interested to learn that a new high-quality stream is available for this year's tournament utilizing the Microsoft Silverlight plug-in, which is being pushed as an alternative to Flash. And, of course, there are always the sports fans who will prefer to watch in HD on their televisions.
The iPhone and iPod touch March Madness on Demand app is available now in the App Store ($4.99).