Apple expected to release new Final Cut Studio near NAB Show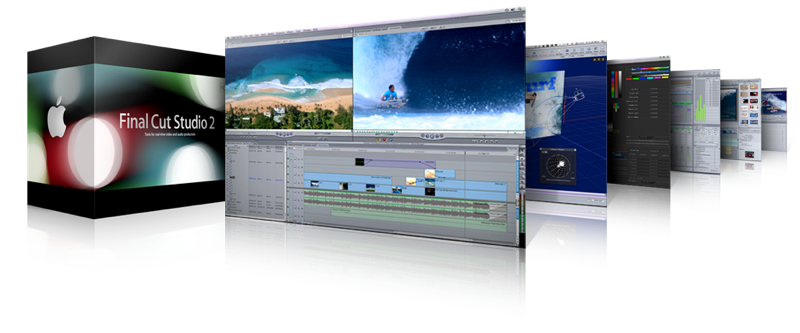 While Apple isn't expected to attend this year's National Association of Broadcasters event, sources familiar with the company's plans say it is preparing to release a new version of its Final Cut Studio near the event.
The current 6.0 reference release of Apple's Emmy award winning Final Cut Pro non-linear video editor was released nearly two years ago in April 2007, as part of the company's Final Cut Studio 2 package with Motion 3, Soundtrack Pro 2, DVD Studio Pro 4, Color, and Compressor 3. Apple also markets the software in a prosumer version called Final Cut Express.
Final Cut Pro will be ten years old this year; Apple's first release debuted at NAB in 1999. A year prior, Apple had rescued the project then in development at Macromedia, which had lost interest in finishing Final Cut after shifting its product focus toward web development. The Final Cut project at Macromedia got started in 1995, when video guru Randy Ubillos and his team left Adobe after delivering Premiere; Adobe had also lost interest in pursuing video editing software.
Because the new title uniquely demonstrated the power of QuickTime, Apple grew afraid that Macromedia's lack of interest might result in abandonment of the new application just as Apple was scrambling to get its QuickTime development program back on track after merging with NeXT and plotting a viable new path for itself.
Apple acquired Final Cut from Macromedia in 1998 and hired Ubillos and his development team. In addition to giving Apple a viable new application to sell to video professionals (and presenting them with a reason to buy a Macintosh), the project also served as the technology behind iMovie, kicking off Apple's software efforts to build a suite of attractive, low priced consumer apps later bundled together as iLife.
Ubillos demonstrated the new iMovie 09 on stage at this year's Macworld Expo Keynote, after being introduced as by Phil Schiller, not as Apple's chief architect for video applications or the patron saint of the company's pro software efforts, but with Schiller's line, "I've asked our engineer to show this off, Randy Ubillos."
Apple rapidly introduced a regular series of updates to Final Cut Pro, pairing it with DVD Studio Pro authoring software at Macworld Expo 2001 followed by the spring release of Final Cut Pro 2 and the winter 2001 release of Final Cut Pro 3. The next year Apple added Cinema Tools.
At NAB 2003, Apple introduced Finals Cut Pro 4, DVD Studio Pro 2, LiveType video titling software, Soundtrack for cutting audio, and Compressor. At the following year's NAB 2004, Apple released Final Cut Pro HD along with new versions of its companion apps. During NAB 2005, Apple packaged its professional video editing tools together as Final Cut Studio, including the new release of Final Cut Pro 5. A year later, NAB 2007 brought the release Final Cut Studio 2, with Final Cut Pro 6, the new Color for video color grading, and other updated component apps.
Last year however, Apple pulled out of NAB all together, fueling panicked rumors that the company would sell off its Pro Apps and exit the software business. That didn't happen of course; instead, Apple followed up by also announcing plans to pull out of Macworld Expo later that same year, signaling that the only business Apple was leaving was the tradeshow business.
A report by Broadcasting and Cable notes that Apple isn't the only company opting out of NAB, noting that "many broadcast network and station engineers are expected to skip their annual pilgrimage to the National Association of Broadcasters' annual convention this April." Cisco and Quantel were also listed among large exhibitors puling out of the event.
While Apple won't be attending NAB, those familiar with the company's plans say it holds ambitions of debuting a new version of Final Cut Studio, currently late in its development stage, at or around the same time the conference kicks off during the third week of April. Further details weren't provided.
Server, Shake, Logic, and Aperture
In addition to the release of an updated Final Cut Studio package, Apple is also expected to update Final Cut Server, a new video asset management and workflow automation application Apple released a year ago, based on artbox software the company acquired from Proximity.
Apple also has a replacement for its Shake high-end compositing software under development. It acquired that software in 2002 from NothingReal and last released a major update for it in 2006, when the company announced "Apple will no longer be selling maintenance for Shake and no further software updates are planned as we begin work on the next generation of Shake compositing software." Apple was rumored to be working on a new replacement title under the code name Phenomenon, based on Motion code and expected for delivery in 2008, making its belated delivery appearing to be imminent.
Apple's other major Pro App suite, Logic Studio, is also due for an update following its last reference release in September 2007. Logic Studio pairs the Logic Pro 8 digital audio workstation and sequencer software with MainStage for recording live performances, the same Soundtrack Pro 2 and Compressor 3 included with Final Cut Studio, Apple Loops Utility, and a variety of synthesizers, effect units, samples, and loops. Elements of Logic Pro are also sold as a prosumer title in Logic Express, and the software also doubles as the basic technology behind iLife's GarageBand.
Another Pro app due for an update is Aperture, with the last 2.0 reference release delivered last February. Aperture is unique among Apple's headlining Pro Apps in that rather than being based on an acquired title and simplified for inclusion in iLife, it was developed internally at Apple as a professional version of iPhoto. The new version will introduce native 64-bit support, mitigating one of the advantages held by Adobe with its rival Photoshop Lightroom software, which gained 64-bit support late last July.