Apple close to unveiling guarded Snow Leopard UI overhaul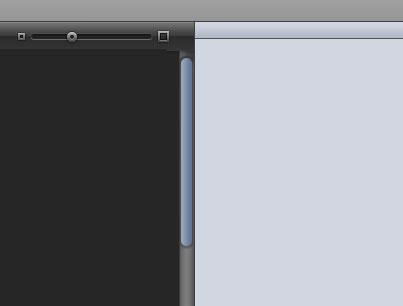 While developers have been privy to pre-releases of Apple's Snow Leopard operating system for quite some time, those distributions have been stripped of several features including a significant UI overhaul that the company is now preparing for broader consumption, AppleInsider has been told.
People familiar with the matter say the next developer build of the software will unleash some of the biggest changes to the next-gen OS since Apple first previewed the software to developers at last June's Worldwide Developers Conference.
Among the changes under consideration for the new build is a striking overhaul to the Mac OS X user interface, which is expected to surrender its platinum theme. Apple has reportedly been working on this new interface since day one, despite public claims that Snow Leopard would forgo forward-facing improvements for a focus strictly on under-the-hood enhancements.
Still, those familiar with the situation say it's not clear whether management has given the green light to include the UI changes in an incremental developer build. The concern is that those changes will inevitably leak on the web, and therefore they may preserve them for an official demonstration during the company's spring Worldwide Developers Conference.
These latest reports add to previous claims that similarly predicted Apple would eventually wrap Snow Leopard in a new interface rumored to go by the code-name "marble." Details were sparse, but speculation pointed to the adoption of the smoother iTunes-style scrollbars and a move towards a darker chrome motif for application windows alongside an inverted menubar with light text on a dark background.
Interface elements and colors of the rumored "Marble" theme.
It's possible that Apple may have already tipped its hand to this end earlier this month when it included the first external builds of its QuickTime X Player with Mac OS X 10.6 Snow Leopard build 10A286. The software included a new minimal interface consisting only of a titlebar, leaving all playback controls to reside in floating interface overlays.
The titlebar itself (seen in the artist rendition, above) is reminiscent of the iPhone's semi-transparent black glass interface but is also capable of adopting hues from the video frames playing beneath it. Although seen in the rendering as sporting a purplish hue (due to the underlying blue video frame) the titlebar appears glass-black when set atop a white or tan-colored video frame.
Next Snow Leopard builds to include big changes
Snow Leopard to be wrapped in new interface ahead of launch
WWDC to offer finalized preview, release date
Snow Leopard to hit retail within two months of WWDC
Upcoming iPhone OS 3 beta to activate live Push Notification support
As it stands, Apple reportedly plans to use its WWDC 2009 to preview a feature complete version of Snow Leopard and announce a formal release date. Based on the current status of the software, those familiar with the project say the company will need approximately two months from this public preview to fine tune the software. Assuming WWDC takes place in June, that would suggest a release around August.
In somewhat related news, company engineers are also racing to deliver a new build of iPhone Software 3.0 to iPhone and iPod touch developers. One of the big features destined for this build is said to be live support for Push Notifications through Apple's servers, which is currently undergoing some final internal tests.