Apple selling 8GB memory upgrade kits for 15" MacBook Pros [u]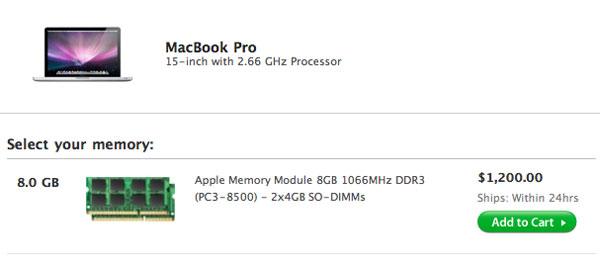 AppleInsider may earn an affiliate commission on purchases made through links on our site.
It will cost you an arm and a leg, but Apple is now offering an official 8GB memory upgrade kit for the mid- and high-end models of its current 15-inch unbibody MacBook Pro family, AppleInsider has discovered.
The kit containing a pair of 4GB 1066MHz DDR3 SO-DIMMs is available immediately for a whopping $1200, or nearly the price of the company's entry-level 13-inch unibody MacBook.
According to a page on the company's online store, the upgrades are available only for the 2.66GHz 15-inch MacBook Pro (link) and 2.93GHz 15-inch MacBook Pro (link), but not the 2.4GHz model.
It's unclear whether the memory modules are compatible with the 2.53GHz 15-inch MacBook Pro, which was introduced in October and replaced this month by the 2.66GHz model.
The upgrade kit doubles the maximum amount of memory supported by the 15-inch MacBook Pro, bringing it up to spec with its 17-inch cousin.
Its addition to the Apple online store appears to be fairly recently, as the technical specifications printed on the product page for the 15-inch MacBook Pro still indicate that the 2.66GHz MacBook Pro "supports up to 4GB" of DDR3 SDRAM.
Update: AppleInsider reader Stu just spoke with an Apple store support representative online who claims the 8GB upgrade kit is indeed compatible with the 2.53GHz 15-inch MacBook Pro. A copy of the chat transcript follows: