Apple almost ready with Nehalem-based Xserves

AppleInsider may earn an affiliate commission on purchases made through links on our site.
Apple in the coming weeks is expected to introduce a new line of its 1U rack-mount server computers that have been updated to take advantage of Intel's new Nehalem architecture.
The systems are expected to use chips from same family of "Gainestown" Xeon 5500 and "Bloomfield" Xeon 3500 series of processors that the Cupertino-based company adopted for its latest line of Mac Pro workstations earlier this month.
According to people familiar with the matter, the Mac maker was the only major PC vendor to introduce systems based on the chips ahead of their formal introduction this Monday because the Mac Pro is a low volume product whose launch could be facilitated with the smaller quantities of the new Xeon parts that were available from Intel at the time.
Also helping matters was the company's close relationship with Santa Clara-based chipmaker, as well as looser testing and validation requirements for the Mac Pro workstation product when compared to server-grade hardware like the Xserve, which sports a different system design.
As is the case with the new Mac Pro, Apple has been offering its Xserves in either single quad-core configurations (2.8GHz) or dual quad-core configurations (2.8GHz & 3.0GHz) since they were last updated to Intel "Harpertown" processors in January of 2008. (The prior generation Mac Pros also utilized Harpertown chips.)
New models, should they follow the same configuration format, would therefore include a single processor model capable of accepting 2.66GHz, 2.93GHz, and 3.2GHz quad-core Bloomfield chips and a dual-pocessor model that would take two 2.26GHz, 2.66GHz, 2.8GHz, or 2.93GHz quad-core Gainestown chips.
"Gainestown" is also available in 2.4GHz, 2.53GHz, and 3.2GHz variants, though Apple has expressed little interest in these parts thus far.
For its part, Intel is touting the new family of Xeons as its "most revolutionary server processors since targeting the market with the Intel Pentium Pro processor nearly 15 years ago." Among their features are dramatic leaps in power efficiency, which stands as the next frontier in the highly competitive server market.
Specifically, the chips promise a processor idle power level of only 10 watts, which Intel says should enable a 50 percent reduction in system idle power compared to the previous generation. New integrated power gates, based on the chipmaker's high-k metal gate technology, also allow idle cores to power down independently.
Capgemini, one of the world's largest business and IT consultancy firms, recently evaluated the new Gainestown chips to test Intel's performance per Watt claims and see if the new chips could really help their clients reduce their energy consumption costs.
The firm noticed "an enormous performance increase up to 500%, while the power usage dropped a staggering 65%." It said queries to a Microsoft SQL database took just ten seconds, compared to three minutes on a previous generation Intel Xeon processor. Even older applications that were not designed for multi-core processors benefitted significantly from the new chips. For example, the time for login sequences dropped from 40 seconds to just five.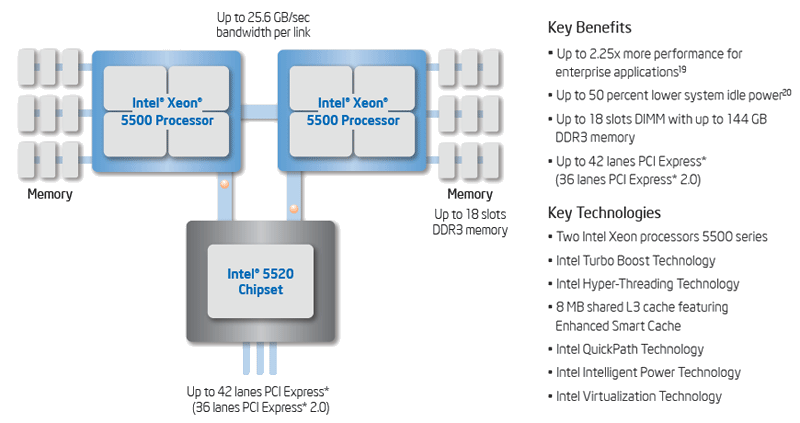 Other specific feature enhancements of the new Xeons include Turbo Boost, which delivers performance on demand, letting processors operate above the rated frequency to speed specific workloads and reduce power consumption during low utilization periods; Hyper-Threading, which benefits from larger caches and massive memory bandwidth, delivering greater throughput and responsiveness for multi-threaded applications; and QuickPath technology with Intel's integrated memory controller, which speed traffic between processors and I/O controllers for bandwidth-intensive applications.
Recent weeks have seen Apple push out lead times for Xserves through its online store by as much as 1 to 2 weeks (Google cache), indicating that production of current models has ceased. Earlier this week, lead times were reduced to 5 to 7 business days, suggesting an announcement may come as early as next week.
In the meantime, customers who place orders for an Xserve are being told by Apple Store representatives that delivery of their system is going to take a bit longer than usual, as new models are internally rumored to make their way to market in the "next week or two." At this time, those customers who had placed orders will see their orders canceled, modified, or upgraded to one of the new offerings, those representatives said.