Apple listing implies iPod touch to eventually gain digital camera [Updated]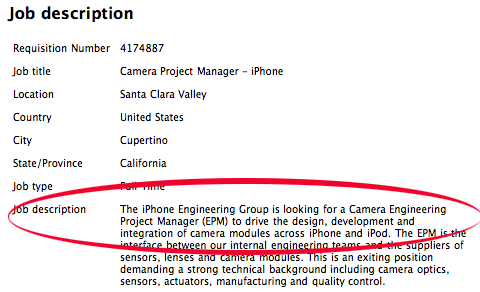 AppleInsider may earn an affiliate commission on purchases made through links on our site.
Apple holds aspirations of extending digital camera functions found on its popular iPhone handset to its iPod touch digital media players, according a listing posted on the company's website last month.
Tyler from AppleiPhoneApps pointed us to a March 16th Apple job listing for a Camera Project Manager, which notes that the company's iPhone Engineering Group "is looking for a Camera Engineering Project Manager (EPM) to drive the design, development and integration of camera modules across iPhone and iPod."
"The EPM is the interface between our internal engineering teams and the suppliers of sensors, lenses and camera modules," the listing says. "In this highly cross functional role the EPM will work closely together with the HW, SW and mechanical engineering team to coordinate all aspects of the camera module design, production and integration."
The listing provides some of the most compelling evidence yet to suggest that photo — and possibly video — capabilities will soon make their way to the iPod touch. Recent reports have also indicated that the next iPhone will see its camera upgraded from 2.0 megapixels to 3.2 megapixels while also gaining video recording capabilities.
Over the weekend, further evidence was discovered within unreleased builds of iPhone Software 3.0 implying that next-generation iPhone owners will also be able to perform some rudimentary video editing on the clips they take, essentially corroborating an earlier AppleInsider report that predicted the same.
Update: Shortly after our story, Apple changed the text of its job posting to omit the mention of iPods but you can see the original listing in all its glory above.