Video recording interface unearthed in iPhone Software 3.0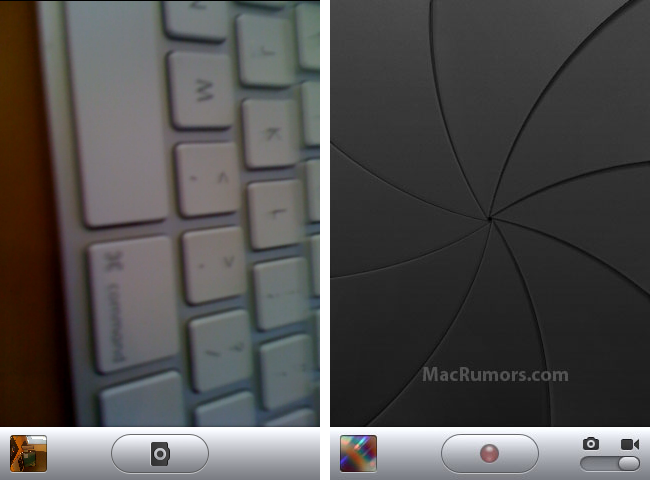 AppleInsider may earn an affiliate commission on purchases made through links on our site.
Following weeks of evidence and source reports on Apple's intentions to include video recording features in its next-generation iPhone, a new discovery within betas of the company's iPhone 3.0 software has all but officially confirmed the plans. Separate hints at Voice Dialing features are also being reported.
The below screenshot of the video recording panel was dug up by MacRumors contacts, showing an interface similar to the existing iPhone camera application with the addition of a digital toggle switch in the lower right-hand corner of the app for switching between still photos and video captures.
"The video recording is not presently functional in iPhone 3.0 beta, and the interface is not accessible by default," according to the report. "Only when configuration files were modified telling the firmware that a Video Camera was present will this interface appear."
In addition to the toggle switch, a square interface element on the left-hand side is also visible. This isn't specific to the video capture component of the application and is actually a fixture of the new Camera application due to ship as part of iPhone Software 3.0. It will display a thumbnail of the most recent image or video captured by the user.
There were also some other capabilities unearthed during the discovery of the video interface including "auto-focus camera", "magnetometer" (digital compass), and "Voice Control".
A report with more screenshots over at BGR shows yet another screen within iPhone 3.0 software showing a large video camera icon with the caption "You can take videos using the camera." The mobile phone site also shows a screen in the "International" preferences panel of the beta software with the aforementioned "Voice Control" changes, which it believes may have something to do with Voice Dialing features.
Three weeks ago, AppleInsider cited people familiar with the upcoming iPhone hardware who said Apple would include a higher resolution camera capable of taking videos in the device, addressing one of the most glaring omissions from the iPhone since its inception two years ago.
The Camera app in iPhone OS 3.0 for still photos (left) and with video enabled (right).
Since then, it's been reported that the Cupertino-based electronics maker has placed orders for 3.2-megapixel lenses for the new models, a 1.2-megapixel increase from the first two generations of the touch-screen handset.
Meanwhile, control icons for an iPhone video editing application were also uncovered in betas of iPhone Software 3.0, further corroborating our report that Apple would allow users to make rudimentary edits to their videos in a similar manner to the way the company's new Voice Memo application allows trimming of audio recordings.