NVIDIA prepping GeForce GTX 285 for Mac Pro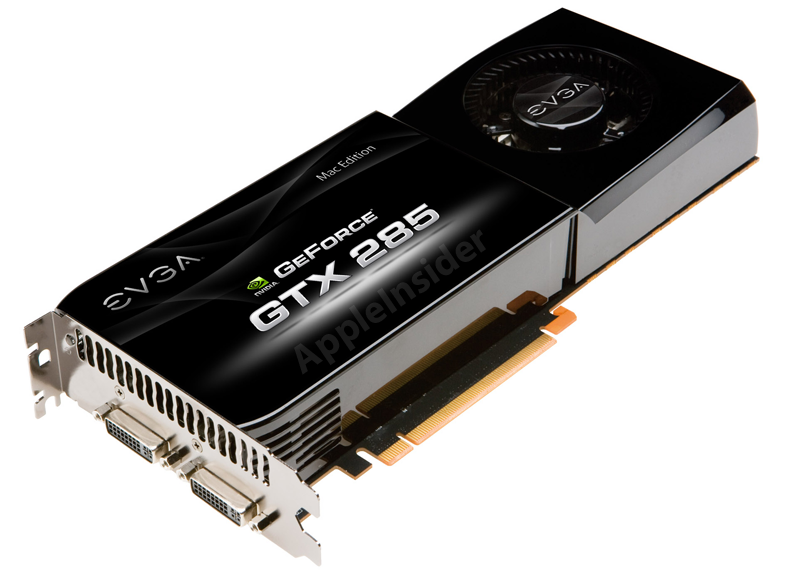 Owners of Apple's Mac Pro workstations will have a second, high-end home video card option within weeks, as NVIDIA is planning to release a version of its GeForce GTX 285 chipset specifically for Macs.
The GPU maker told AppleInsider on Wednesday that the new card, simply labeled the GeForce GTX 285 Mac Edition, would ship in June.
Little information about the card was directly mentioned, though certain details are evident through an image accompanying the teaser: the GTX 285 will be made by third-party firm EVGA, a company already well-established in making NVIDIA-based cards for Windows PCs. Like the Quadro FX 4800, though, it will forgo Apple's preferred Mini DisplayPort in favor of two dual-link DVI video ports. Both 2008 and 2009 Mac Pros will be supported.
The company does say that, unlike some cards converted for the Mac, the GTX 285 will have the same performance as its Windows counterpart. In its existing form, it's NVIDIA's fastest single-processor graphics chipset and has a whopping 240 visual effects cores that let it process more tasks at once. By comparison, the GeForce GT 120 that comes standard with the Mac Pro has just 32 cores, and even the $1,800 Quadro FX 4800 has just 192. It also has 1GB of video memory and supports all of NVIDIA's general-purpose processing features, including CUDA and (eventually) OpenCL.
Why the company is releasing the card at this stage isn't completely evident: the ATI Radeon HD 4870 already fills the role of the high-end yet mainstream video choice for the Mac Pro and would have the GTX 285 Mac Edition fight for a subset of an already small market. Various tests of the Windows version on the web show the newer card outperforming the 4870 by a significant margin in most tests, however, hinting that NVIDIA may simply be trying to snatch the Mac graphics performance crown from its rival.
And whatever the reasoning, the addition will have its own impact on the Mac graphics market. While the Quadro itself is noteworthy for being one of the first NVIDIA cards of any kind to bear a third party's brand, EVGA's involvement for the GTX 285 signals the first GeForce card to share the same distinction. It also gives owners of Apple's Xeon-based workstation their second new graphics option in as many weeks as well as an elevated level of graphics technology — an important factor with the release of Mac OS X Snow Leopard expected to reward GPUs with fast OpenCL performance.