Another firm sees Apple selling existing 8GB iPhone 3G for $99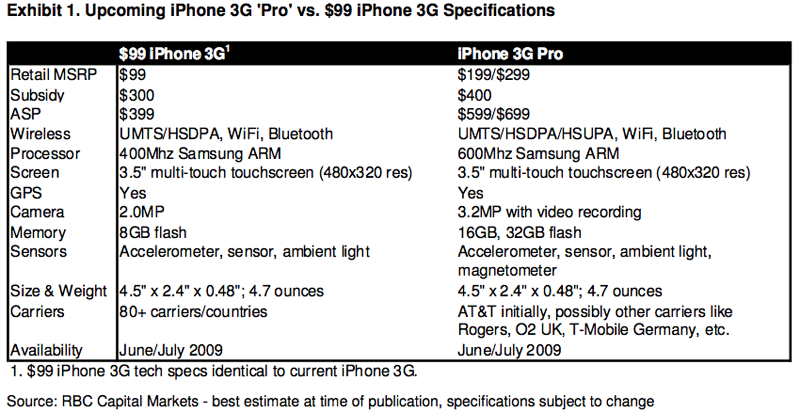 AppleInsider is supported by its audience and may earn commission as an Amazon Associate and affiliate partner on qualifying purchases. These affiliate partnerships do not influence our editorial content.
With more and more evidence pointing to Apple's 2009 iPhone lineup consisting of three distinct models, the Royal Bank of Canada is the second investment firm to predict that one of those models will be a repackaged version of the existing 8GB iPhone 3G that will see its price tag lopped in half.
Discoveries within betas of Apple's upcoming iPhone 3.0 software over the past several months have turned up references to at least two new versions — iPhone 2,1 and iPhone 3,1 — of the touch-screen handset that could hit the market this summer. Meanwhile, it's been speculated that references to "ChinaBrick" found in the same software could indicate a third model may be in the works specifically for mainland China.
Those assumptions were reinforced earlier this week when unnamed sources claiming to be familiar with Apple's plans said the company is gearing up to introduce a trio of iPhones with distinct wireless hardware, each of which would be available in two capacities for a total of six new models.
More specifically, the report implied that countries with the most capable wireless networks, like the United States, would see an enhanced version of the iPhone 3G capable of 7.2Mbps downloads while other countries receive a version similar to the current iPhone 3G capable of 3.6Mbps 3G downloads. The third model would reportedly target only China and feature more limited functionality, possibly forgoing 3G connectivity entirely or offering compatibility with the government-backed TD-SCDMA standard.
In a lengthy research report to clients Wednesday, RBC Capital Markets analyst Mike Abramsky made no mention of a model specific to China but did take a stab at predicting the specifications for the other two models.
Echoing a recent forum post from an alleged insider with ties to Apple's Taiwanese manufacturing partners, Abramsky said he believes that next month's Apple Worldwide Developers Conference will see the introduction of an "iPhone Pro" that will sell for $199 and $299 with storage capacities of 16GB and 32GB respectively. Inside, he expects a new 3G wireless chip capable of connecting to wireless networks that support download speeds of up to 7.2Mbps, a 600MHz Samsung ARM processor, 3.2-megapixel camera with video capabilities, a magnetometer, and other features already found on the current iPhone 3G.
However, the core of analyst's report revolves around a prediction that Apple will continue to sell its existing iPhone 3G in an 8GB configuration, only pricing it down to $99 from $199 in a bid to broaden its share of the worldwide smartphone market, boost its multi-touch install base, and poke holes in any price umbrella rivals may seek out in their own bid for market share.
Abramsky is the second analyst in as many days to make such a call. His research follows on the heels of a similar report Tuesday from Morgan Stanley analyst Katy Huberty that boosted Apple shares by nearly 7%. Like her colleague at RBC, she predicted that Apple would continue to sell its current iPhone 3G hardware for either $99 or $149 when it announces new models next month. She said the move could spur a 50 - 100% incremental increase in unit demand that could help the company sell 9.9 million total iPhones during the third quarter, 24.8 million during the entire 2009 calendar year, and 36.2 million in 2010.
For his model, Abramsky cited an internal ChangeWave survey of 2,900 respondents in making a more conservative prediction that a $99 iPhone would accelerate iPhone momentum by 30 - 40%. He estimates Apple could sell 5 million of the cheaper devices in fiscal 2009 and 22 million in fiscal 2010, for a total of 18 million iPhones in fiscal 2009 and 28 million in fiscal 2010. Apple's fiscal year runs October through September, while the calendar year is obviously January through December. As of press time, Apple share were up roughly another 3% to $134.50.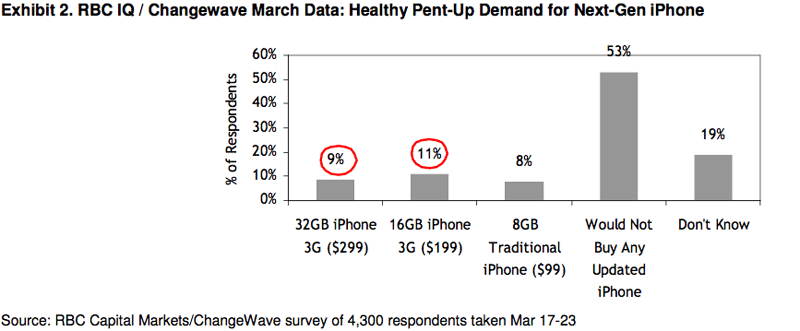 Assuming Apple's moves play out as expected, Abramsky sees Apple capturing a 2.4% share of the global handset market by 2010 while the total install base of multi-touch devices capable of tapping into the App Store swells to 94 million. He also cited a different internal study of 2,700 respondents as suggesting that iPhone sales could see an additional 20 - 25% momentum boost should carriers introduce more affordable data plans alongside new models.
"While iPhone carriers (especially AT&T) may be cautious to reduce monthly data pricing ($30/mo currently at AT&T for unlimited data) given network capacity constraints, introduction of a 'light' data plan for $15-20/mo with data caps (e.g. 100-250MB/mo) would further expand iPhone's addressable market and accelerate uptake with more price-sensitive buyers," he wrote. "However, this may require Apple and the carrier to offer a convenient way to protect 'light' data users from unexpected data charges over their limits."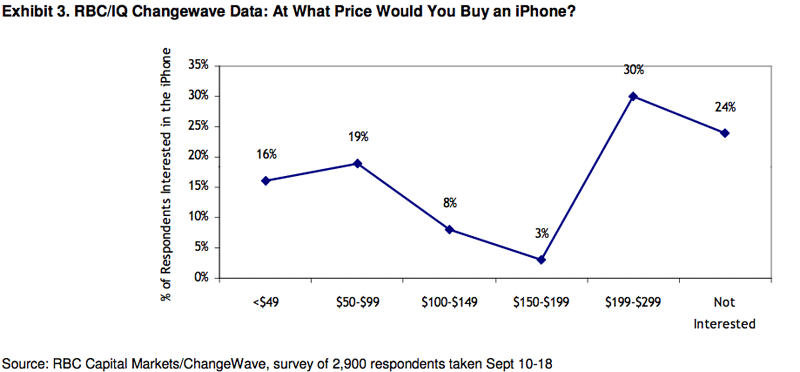 In addition, the RBC analyst refuses to discard the notion that Apple is working on an "iPhone mini," which he now believes could arrive next year and serve as a catalyst for further share gains, momentum and valuation.
"While features, pricing distribution appear to be not yet finalized, we believe an iPhone Nano could be sold on a pre-paid or device only (no SIM card) basis over-the-counter in Apple stores and third party distributors, which are more prominent internationally vs. carrier stores," he told clients. "The prepaid market is massive (est. 60% or 2.4B of 4B total mobile phone users) and dominant in key mature phone markets like Germany, UK, Italy, and emerging markets (Brazil, China, India, Russia, etc.)."
Abramsky reiterated his Outperform rating and $165 price target on shares of Apple.