Buying a new iPhone 3G S in twenty minutes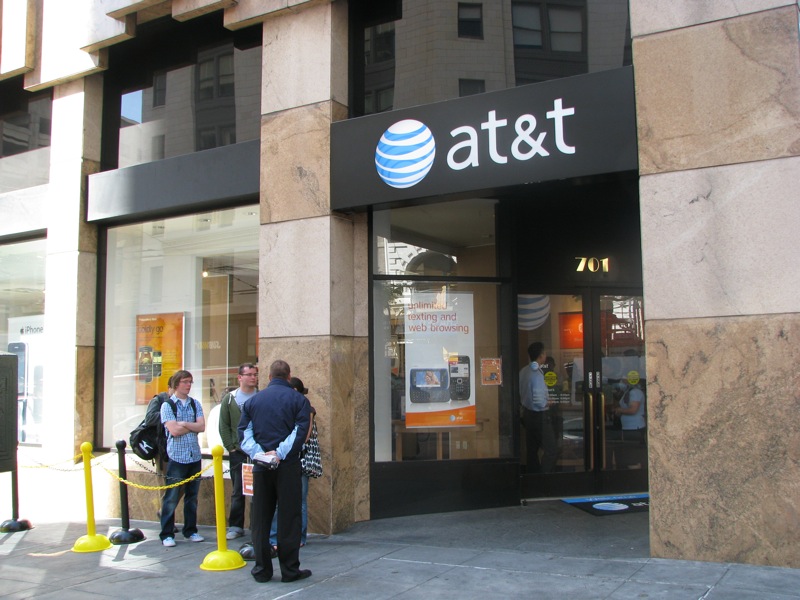 AppleInsider is supported by its audience and may earn commission as an Amazon Associate and affiliate partner on qualifying purchases. These affiliate partnerships do not influence our editorial content.
The original iPhone defined a new height of spectacle in consumer electronics launches. With the release of the iPhone 3G S, Apple has managed to keep the media circus surrounding its new smartphones engaged for the third year in a row, and has greatly improved its in-store processing.
Who would have thought that, three years in, another iPhone model launch would draw lines and media?
I leisurely motored over to the downtown San Francisco store expecting no lines and no waiting, but after cycling around for parking and budgeting just twenty five cents for a parking meter, I saw that even the nearby AT&T store had a short line waiting for the iPhone.
AT&T's line even sported a barricade and signage indicating that the only people who need bother wait in line are those who set up an iPhone order in advance.
A block away at the Apple store, camera crews with a satellite uplink were still covering the "launch event" hours after the store opened. There were two lines: the priority line for pre-screened users and a walkup line for everyone else.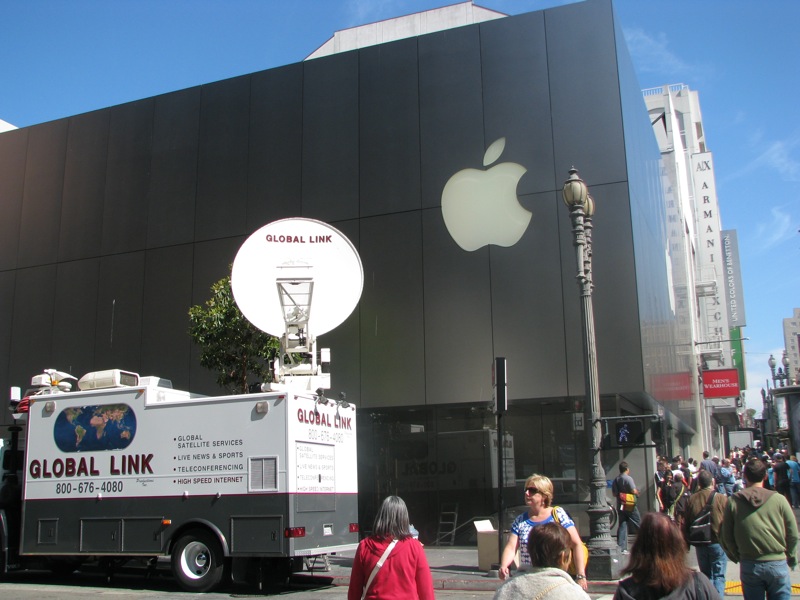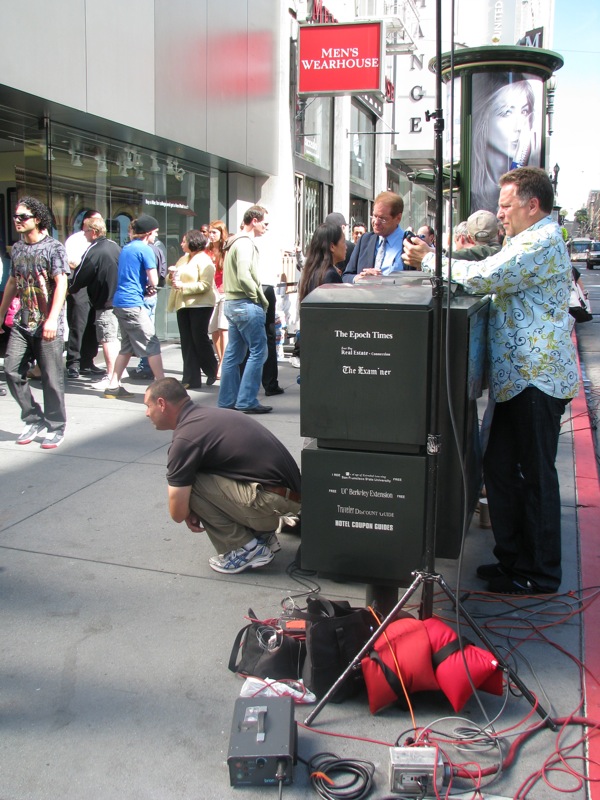 Workers were milling around asking people if they were on the list, and offering coffee, hot cocoa, bottles of water, and apparently Noah's Bagels from a catering cart.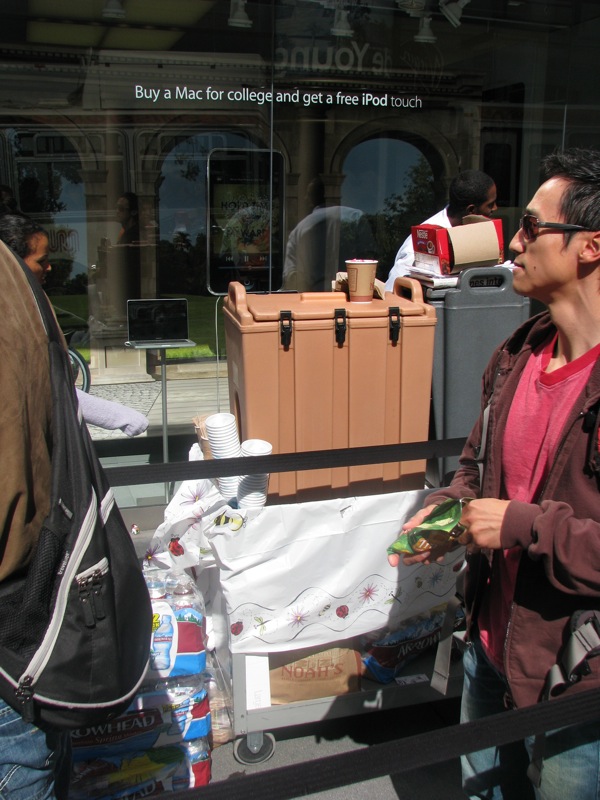 Nearer the door, three heavyweight security guards menacingly blocked the path of anyone trying to jump the line. I asked one of them if it was a rough crowd they were dealing with. He laughed and said no, then got really serious about how nobody was getting in without authorization from the girl holding the guest list.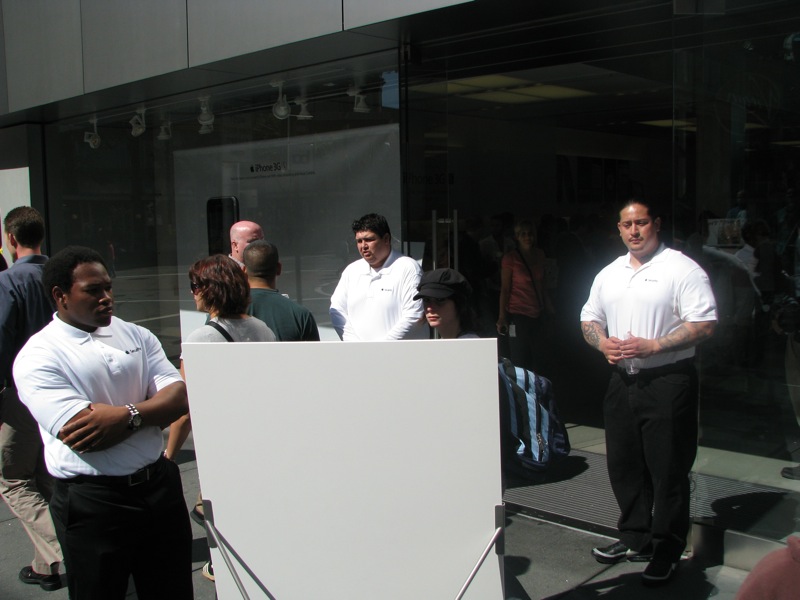 I was a bit worried about getting in and out with just a quarter on my meter. Fortunately, that quarter had bought me an hour of motorcycle parking rather than 5 minutes of car parking. But before I could ask for a bagel, a store employee came out, introduced himself by name, and whisked me into the store to set me up.
The phone purchase went smoothly, and after being set up with a plan, I was handed off to another employee who similarly introduced himself as if he were arranging my VIP bottle service in a club. Instead, he simply plugged the new phone into an iMac and did the initial activation step.
In twenty minutes, I was back at my bike with another forty minutes of a paid parking space. My old phone was already taken out of service but the new phone was still not showing any signs of life in detecting AT&T.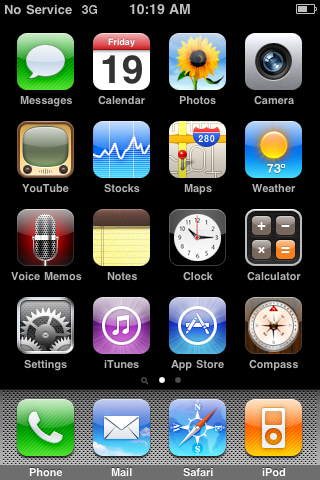 By the time I got home 20 minutes later, however, the new phone was already receiving text messages and ready to go. After a quick restore of my previous apps and configuration, it was ready to use. About forty minutes after placing my first phone call, the new phone popped up a messaging indicating that the phone was activated.
The iPhone activation situation
In its iPhone partnership with AT&T, Apple has learned a few things over the last couple years. The company first started out with a device that broke convention in the mobile industry: it sold without a direct subsidy, allowing users to take their new phone home and set it up themselves.
In order to bring the marketed price of the iPhone 3G in line with other models sold for $200 or less, and sometimes for "free" with a contract, Apple conceded to standard in-store activations that tied the phone to the user's existing or new contract, allowing buyers a $200-$400 discount.
The problem with in-store activations is that lots of accounts had complications: business plans, family plans, credit and qualification problems and so on. The long lines of users were slowed dramatically by users who needed extra help.
This year, Apple and AT&T teamed up to take pre-orders, screening users for any potential problems well in advance. The result on launch day was two lines: a priority line for pre-screened users, the other for people who just walked up to buy a phone.
As a result, lines moved faster and users without problems were handled on an express track. There have also been improvements made to the sometimes flakey Easy Pay systems that Apple retail store employees reply on to ring up sales, and back end fixes to help speed processing with fewer problems.
Users trying to get set up at AT&T stores or phones they received in the mail have reported more glitches, such as a longer wait for service activation.