12% of early iPhone 3G buyers report ditching their BlackBerry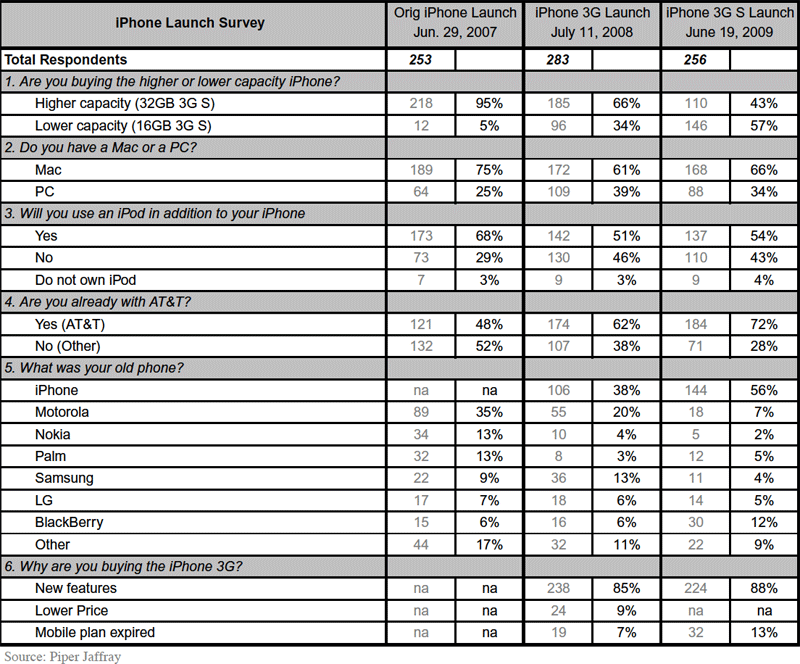 Approximately 12% of consumers who visited a retail store this past weekend to make their iPhone 3G S purchase said they were replacing a BlackBerry handset, the latest sign that Apple continues to make headway against rival Research in Motion in the high-stakes smartphone market.
That data point is one of several interesting statistics to come out of a survey by Piper Jaffray of 256 early iPhone 3G S adopters shopping for their new handsets at Apple retail stores in New York and Minnesota this past weekend. A similar survey conducted during last year's iPhone 3G launch found that just 6% of buyers were replacing a BlackBerry, suggesting Apple may be on pace to double its market share gains from RIM this time around.
Although Nokia leads the worldwide smartphone market with a commanding 41.2% share, Apple and its iPhone are most frequently compared to RIM and its BlackBerry devices due to their similarities and target audience. The most recent market share figures from Gartner rank Apple third with a 10.8% share, behind second-place RIM with its 19.9% slice of the market.
Of those iPhone 3G S buyers surveyed this weekend, 43% purchased the higher-capacity 32GB model and 57% were content with the 16GB model. This compares to 66% of buyers who selected the higher capacity 16GB iPhone 3G last year and 95% who purchased the higher capacity 6GB original iPhone when it was launched in 2007.
Speaking to clients in a report on the matter, analyst Gene Munster said he sees this trend as a sign that Apple may no longer be able to drive the average selling prices (ASPs) of iPhones higher simply by introducing models with greater storage capacity, as the lower capacity model appears to be sufficient for most early adopters for the first time in the handset's history this year.
Meanwhile, the survey signals that AT&T continues to reap the benefits of its exclusive deal to sell the iPhone in the U.S., with 28% of early iPhone 3G S adopters reporting that they are new to AT&T. This figure compares to 38% of iPhone 3G buyers last year who said they were making the jump to AT&T for the first time.
Piper Jaffray's survey also addressed the issue of iPod cannibalization by the iPhone, given that each iPhone is also a fully featured iPod. But interestingly enough, more than half (54%) of iPhone 3G S buyers said they planned to continue using a separate iPod in addition to their iPhone, up from 51% during the year-ago survey.
Overall, 56% of those surveyed said they were upgrading from an early iPhone model, with a resounding 88% saying their decision to make the jump to the new iPhone was driven by the handset's new feature set.
"We believe this shows Apple is developing brand loyalty not enjoyed by other mobile phone makers," Munster told clients. "At the outset of the company's iPhone initiative, one of Apple's goals was to develop the kind of brand loyalty they have developed among Mac and iPod customers and we believe they are succeeding thus far."
As the footprint expands, and loyalty expands as well, Apple will increasingly enjoy a base of customers who regularly upgrade to the newest version of the mobile phones the company releases in what appears to be an annual cycle," he added.
Munster maintained his Buy rating and $180 price target on Apple, saying he's incrementally more confident in his estimate that the company will sell 5 million iPhones during the current quarter ending June.