Apple again offers matte screen option for 15-inch MacBook Pro

Confirming an AppleInsider exclusive tip from less than a month ago, Apple has restored the antiglare upgrade option — at a cost of $50 — for its 15-inch MacBook Pro line.
The change is a quiet concession by Apple that the glass-enclosed glossy screens adopted by the Mac-maker may not be for every one. Roughly two years ago, the company began transitioning its entire Mac product line away from matte displays to the highly-reflective option that was the only offering on the 15-inch MacBook Pro lineup.
Previously, only the 17-inch MacBook Pro offered the $50 antiglare option. Tuesday's change brings the features to the 15-inch line, but the 13-inch Pro model remains glossy-only.
The transition towards glossy displays appears to have been sparked by the original iPhone, whose glass touchscreen and black border resonated well with customers. The reception was favorable enough that Apple, in a bid to push the envelope and standardize materials across its product families, gave similar treatment to its iMac line a few months later.
Further emboldened, Apple announced in October its new line of unibody notebooks would also forgo matte displays for glossy ones, with the exception of a $50 antiglare option on the pricey 17-inch MacBook Pro. These new displays "provide crisp images and vivid colors which are ideal for viewing photos and movies," Apple said, "and the edge-to-edge cover glass creates a smooth, seamless surface."
Not everyone was thrilled with the move, especially those members of Apple's core professional video and image editing communities, who argued that the glossy displays tend to complicate color matching. Others are indifferent to this effect, but just can't stomach the glare given off by the glossy screens. Some are road warriors who take their notebooks on different assignments each day, and sometimes find themselves at sunny sporting events, unable to escape the reflective properties of the screens.
Whatever the case, Apple appreciates the concern, as it did with the outrage over the brief absence of FireWire on its 13-inch notebook offerings. The Mac maker has been following the numerous petitions and online threads dedicated to the display matter and hears their customers' collective voice, those familiar with the matter told AppleInsider at the time.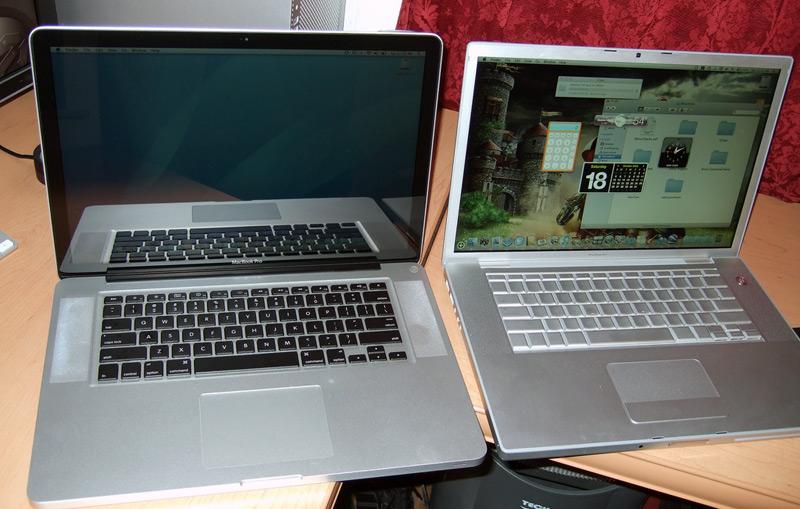 A glossy unibody MacBook Pro side-by-side with a previous-gen matte MacBook Pro | Source: Flickr user Loustechworld