Apple adjusts iPod touch, nano, classic prices ahead of event [u]

AppleInsider may earn an affiliate commission on purchases made through links on our site.
Before it took its online store down Wednesday, Apple lowered the prices of many of its iPod offerings, with the 32GB iPod touch seeing the largest price drop, from $399 to $279.
In addition, the 16GB iPod touch dropped from $299 to $249 and the 8GB model fell from $229 to $189. On the iPod nano side, the 16GB capacity decreased to $149 (from $189), and the 8GB offering slid to $129 (from $149). Finally, the iPod classic had its price cut to $229 (from $249).
Unsurprisingly, the Apple Store was taken down around 10 a.m. Wednesday, in preparation for the announcement of new products.
That means that before Apple even announces any products today, as it is planned to do, the iPod maker has already undercut the price of Microsoft's upcoming Zune HD, set to launch Sept. 15 with a 32GB model for $290. Prior to Wednesday's price cuts, the comparable iPod touch model was more than $100 more expensive than the forthcoming Microsoft product — now, Apple has bested its rival to the north by $10.
However, when pitting the 16GB models against each other, Microsoft still comes out ahead by $30.
Apple today is widely expected to unveil a new iPod touch with a camera. Speculation suggests that one model will offer 64GB, and the morning price cuts have likely set the stage for that spot in the lineup.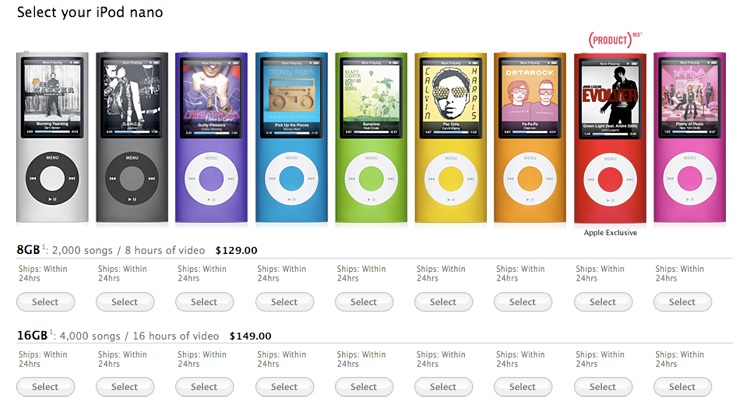 While Apple normally takes down its store to implement changes and build hype, it did not before the iPod price drops. Instead, the hardware maker waited until later, just before its scheduled keynote, set for 10 a.m. Pacific Time (1 p.m. Eastern).