Zune HD price leak: $100 less than Apple iPod touch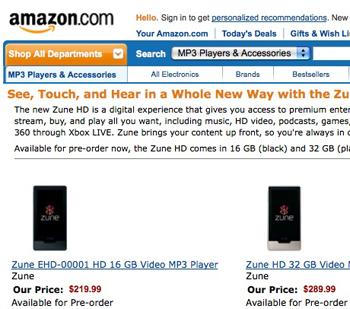 A temporary price listing for Microsoft's upcoming Zune HD showed the device at $290 for its 32GB offering, a cost more than $100 cheaper than the comparable iPod touch model from Apple.
The prices, listed at Amazon, also show a 16GB model for $220, or $79 cheaper than the 16GB iPod touch. The 32GB iPod touch retails for $399. The listing was captured by PC World. The devices remain listed at Amazon, but without any prices.
The Amazon Zune HD prices corroborate with alleged internal information from retailer Best Buy, which, according to Gizmodo, also showed price points of $220 and $290.
Microsoft is attempting to position the Zune HD as a direct competitor to the iPod touch, even offering multi-touch capabilities and Web browsing on its 3.3-inch screen. The device will also, via a dock, output 720P high-definition video and includes an internal HD radio. The Amazon page also said the Zune HD will play games.
While the lower price point might seem to position the device as a strong alternative, Apple could change the price of its iPod touch offerings well before Microsoft's touchscreen competitor launches. Apple is expected to launch new iPods, perhaps with cameras, at an anticipated event this September.
Each year since the iPod touch was released, Apple has also doubled the media player's maximum capacity. If that pattern were to continue, the iPod-maker would offer a new 64GB capacity this fall.
The Zune HD prices were temporarily listed at Amazon | Source: PCWorld
The Zune HD also recently received regulatory approval from the Federal Communications Commission, exposing its NVIDIA Tegra chip and Windows CE roots. While the device's price points may now be known, the Redmond, Wash., company has yet to reveal a launch date for the product, only stating it will debut this fall.