iPhone predicted to drive Apple stock to $235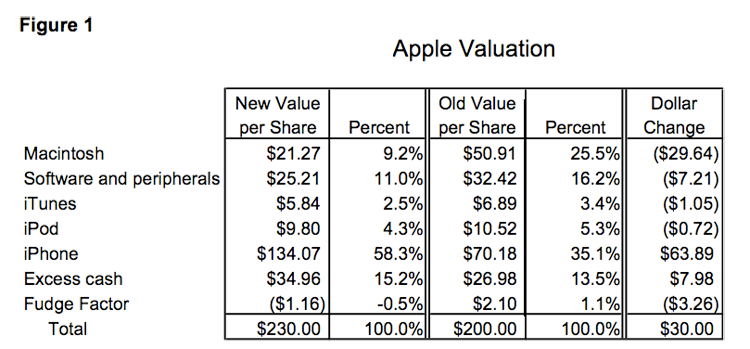 AppleInsider is supported by its audience and may earn commission as an Amazon Associate and affiliate partner on qualifying purchases. These affiliate partnerships do not influence our editorial content.
A new report predicts Apple stock will break past the $200 milestone, riding high on the successful and profitable iPhone, even as the company's other businesses are predicted to lose value.
In a note to investors, Charlie Wolf of Needham & Co. said he believes AAPL will trade at $235 in the next 12 months, and will be driven to that price solely on the strength of the iPhone. Specifically, he believes that the "explosive growth" of the App Store will lead to a higher trajectory of iPhone adoption.
Though the iPhone is already the most profitable portion of Apple's business, Wolf believes it will become even more dominant for the company. In his old prediction of a $200 trading price, Wolf viewed the iPhone as $70.18, or 35.1 percent of the stock price's share. Now, he sees the iPhone as $134.07, or 58.3 percent of the total share price. And the fact that the iPhone only controls 12.5 percent of the smartphone market means there is huge potential for growth.
"By exploiting a commanding lead in the all-important smartphone applications market, the iPhone is in a position to chalk up share gains in this fast-growing market that could surprise everyone," Wolf wrote. "In many respects, Apple and Amazon are in similar positions. Amazon holds a relatively small but growing share of the e-commerce market, which itself is small, but growing an order of magnitude faster than the physical retail market."
Part of Wolf's optimism for the App Store stems from changes made by Apple at its recent media event. In the past, Wolf was critical of the difficulty in finding new software for the iPhone. But with iPhone OS 3.1, a "Genius" recommendation system will suggest new software for users, based on what they have already downloaded. Wolf said he sees the change as a first step, but still a positive one.
"Based on these developments since our January valuation analysis, we have upped the number of iPhones that will be sold in 2018, the final year in our model, from 67 million to 107 million," he said. "Our forecast has the phone capturing 20 percent share of the smartphone market in that year, up from 12.5 percent recently. We should note that the iPhone's share of the worldwide market is already around 12.5 percent. So our forecast is by no means an aggressive one."
However, the report also reduced the forecast of future iPod sales as the music player market continues to shrink. From an initial estimated 468 million users, Wolf now believes there will be an install base of 333 million portable music players in 2018. He believes that smartphones will begin to take over that category.
"Until the emergence of converged devices, growth in hte music player market had traced the classic innovation S-curve trajectory," he said. "We continue to estimate that the iPod will maintain a 60 percent share of the worldwide market."