For students, Windows 7 will equal Snow Leopard's price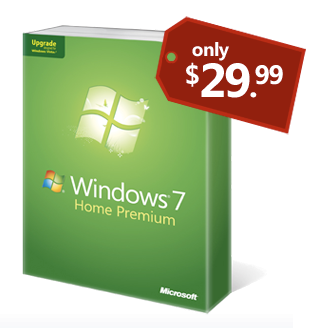 For a limited time, students will be able to purchase Microsoft's upcoming Windows 7 operating system for $30, roughly the same price as Apple's competing Mac OS X Snow Leopard.
Microsoft this week launched win741.com, a Web site devoted to promoting Windows 7 to students. By clicking the "Buy" panel, users with a valid student e-mail address are offered a deal that the software maker says is "too sweet to pass up."
"For a limited time, eligible college students can get the sweetest deal on Windows 7 - for only $29.99 USD," the site reads. "That's less than most of your textbooks! Hurry — offer ends January 3, 2010 and 12 a.m. CST."
The offer applies to the Home Premium and Professional versions of Windows 7. Students are allowed to purchase one copy of either from Microsoft's online store. Similar offers are available in the U.K, Australia, Canada, France, Germany, Korea and Mexico.
Rather than mailing a disc, the software will be made available for students to download in either 32- or 64-bit versions. The Web site's FAQ recommends that those looking to do a clean install of the operating system buy a Windows 7 backup DVD.
For all non-students, Windows 7 is less expensive than Vista, but still much higher than Snow Leopard. A retail Home Premium upgrade will cost $120, $40 less than Vista, and the standalone version is $200. Professional will cost $200 for an upgrade, or $300 for the full price. And Windows 7 Ultimate is $220 for upgrade and $320 for the full copy. Upgrades require Windows XP or Windows Vista to be installed on the machine. Windows 7 is set to launch Oct. 22.
Launched on Aug. 28, Snow Leopard has been viewed positively by critics as a worthwhile, bargain-priced upgrade to Leopard. And customers have responded in kind: New sales figures have shown that the latest Mac operating system has sold twice as well as Leopard, and four times better than Tiger.