Apple prepares for first Microsoft store by updating its own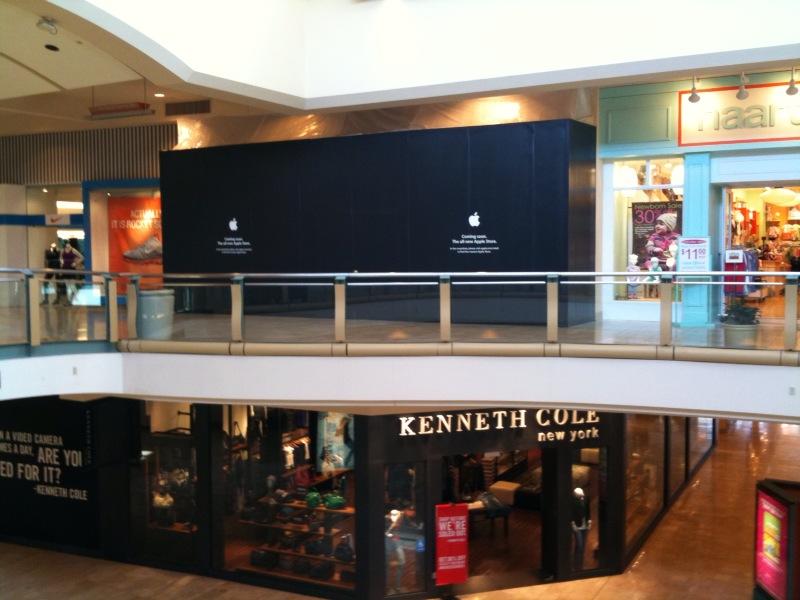 AppleInsider may earn an affiliate commission on purchases made through links on our site.
In what could be viewed as a preemptive strike, Apple has closed its store in Mission Viejo, Calif., for renovations — the same store that will be located near one of Microsoft's first retail outlets.
Microsoft intends to open its first two brick-and-mortar stores this fall, with one of them to be located inside The Shops at Mission Viejo. That same site already houses an Apple Store, but one AppleInsider reader has sent word that the company has closed its existing location for renovations. The store has been closed since Monday, Sept. 14.
Now boarded off, the location tells visitors, "Coming soon. The all-new Apple Store." Whether the renovations are a direct response to Microsoft's own upcoming store, or merely a coincidence is unclear.
Regardless, the rivalry between Apple and Microsoft over the Windows maker's upcoming retail venture has been heating up. Apple's rival to the north has taken cues from the Mac maker's successful retail locations, and intends to include "Guru Bars," much like the Genius Bars created by Apple.
And this week, a new report suggested Microsoft is looking to poach managers and employees from existing Apple Stores. Apple employees have allegedly been offered "significant raises" to jump ship, and managers who are snagged have been asked to contact some of Apple's tops sales people to see if they will join.
The Redmond, Wash., company has even hired real estate expert George Blankenship, one of the cornerstones of Apple's early retail efforts, to consult on its first retail stores.
The Apple Store in Mission Viejo, Calif., is closed for renovations. Photo provided.
The new retail locations will sell Microsoft software and first-party hardware, such as Zunes and Xbox 360 consoles. Third-party Windows software and Xbox games will also be available. The company also plans to open a store in Scottsdale, Ariz., before the year is out, though there is no Apple Store near that location.