Big holiday season predicted to be just the beginning for Apple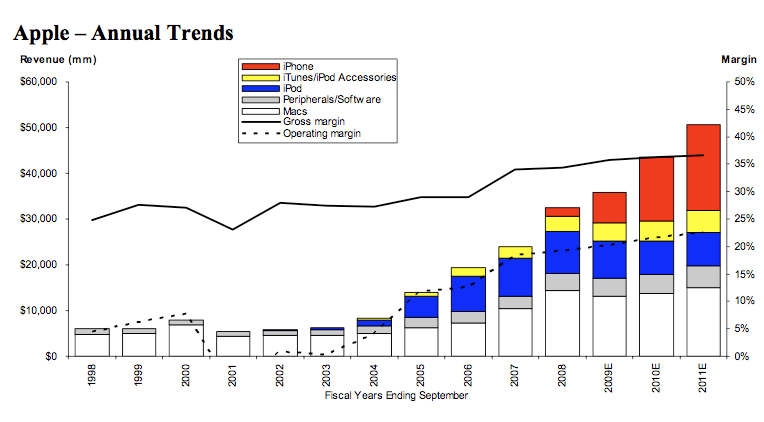 AppleInsider may earn an affiliate commission on purchases made through links on our site.
Apple is expected to have exceptional sales this holiday season to cap off an excellent 2009, but a new report predicts that 2010 will be even better based on anticipated iPhone sales.
In his latest note to investors, analyst Robert Cihra with Caris & Company has predicted that 2009 iPhone sales will be up 94 percent from 2008, with a total of 26.6 million handsets sold during the calendar year. But for 2010, he expects Apple to sell a total of 36.6 million iPhones.
Even with that growth, Apple would only command about 16 percent of the worldwide smartphone market share, and less than 3 percent of the overall cellphone market.
"Awfully conservative, we think," Cihra wrote, "for what is unquestionably now the most top-of-mind phone/software/delivery platform across its entire industry from handset competitors through carriers."
The report predicts that when Apple reports it September quarter earnings on Oct. 19, the iPhone will account for 25 percent of reported revenues, or 38 percent of revenue non-generally accepted accounting principles (GAAP). More specifically, the iPhone would represent virtually all of Apple's year-over-year growth.
The research note also predicts that Mac sales in the concluded September quarter will be strong, with 2.8 million shipments. However, given rumors of hardware refreshes and new models for the MacBook, iMac and Mac mini lines, Cihra believes the December quarter will see a boost in sales. He expects a new plastic MacBook to have a lower entry price than today's single $999 offering.
"Make no mistake," he said, "Apple intends to keep gaining PC share."
Apple has warned its retailers that the iMac and Mac mini will see supply constraints in coming weeks, fueling speculation that new hardware is imminent. Sources have indicated to AppleInsider that the company is ready and waiting with a redesigned iMac line.
Apple is also expected to retain and redesign its low-cost polycarbonate MacBook at a more affordable price and multiple new models.
Caris & Company has upped its price target to $235 for AAPL stock, and has reiterated its recommendation to buy.