Exclusive photos, video from Microsoft Store grand opening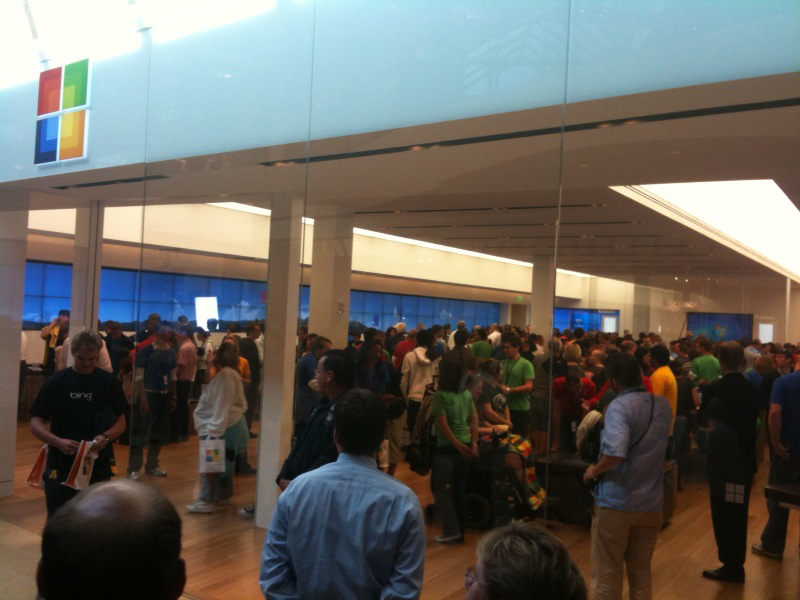 Microsoft debuted its first retail store in Scottsdale, Ariz., Thursday to coincide with the launch of Windows 7, and AppleInsider has exclusive photos, video and details from the grand opening event.
Reader Charles A. Keller Sr. provided photos and video from the launch event at a packed store inside the Scottsdale Fashion Center. Inside the new location, the walls are lined with continuous screens that rotate through images. The store also includes a multi-touch Microsoft Surface table.
In the back of the store is the "Guru Bar," Microsoft's answer to the Genius Bars at Apple stores. The station where Windows Gurus are located has the word "Answers" on its left and right side.
At least one former Mac Specialist is said to work at the Arizona location. Keller, a former Apple Retail employee, said he knows others who were approached by Microsoft and offered similar wages to what Apple pays.
In September, reports suggested that Microsoft was offering raises to key Apple Store managers in an attempt to lure them away. Those who jumped ship were allegedly asked to attempt to recruit the most seasoned Apple employees they had presided over in their previous job.
Inside the store at Thursday's opening was said to be an "impressive line" of people. Many patrons who made purchases walked out with smaller bags, likely to have copies of Windows 7. At least one customer was seen purchasing an HP TouchSmart PC, one of the third-party hardware options available.
In attendance was Microsoft Chief Operating Officer Kevin Turner, who has been with the company since 2005. Turner himself made comments in recent months that his company intends to get aggressive with Apple in the retail space, going as far as to say that Microsoft plans to open stores right next door to Apple.
Turner also made headlines this summer when he bragged about a phone call he received from Apple's legal department over a Laptop Hunters advertisement. Apple reportedly called the Redmond, Wash., software giant over an outdated "Laptop Hunters" ad that showed a MacBook Pro with higher pricing. Microsoft later quietly changed the ad.
Thursday's grand opening is just the first Microsoft store, and Apple's rival to the north intends to open more in the coming months. Among them is a brick and mortar destination located near an existing Apple Store in The Shops in Mission Viejo, Calif. Apple recently closed that location for renovations.