Apple releases Apple TV 3.0 software with redesigned interface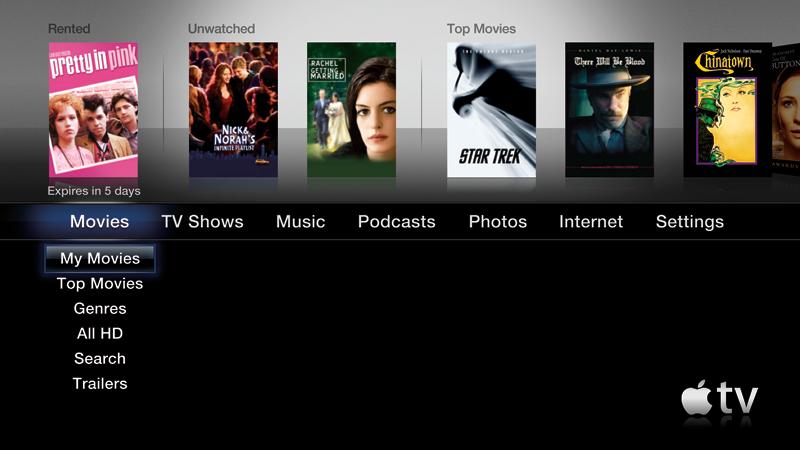 AppleInsider may earn an affiliate commission on purchases made through links on our site.
Apple on Thursday introduced its new Apple TV 3.0 software, which features a redesigned main menu that makes navigating content simpler and faster, the company says.
Users can now watch iTunes Extras and iTunes LP in fullscreen with their Apple TV, as well as listen to Genius Mixes and Internet radio through their home theater system. The new Apple TV software is available immediately free of charge to existing Apple TV owners.
"The new software for Apple TV features a simpler and faster interface that gives you instant access to your favorite content," said Eddy Cue, Apple's vice president of Internet Services. "HD movies and HD TV shows from iTunes have been a huge hit with Apple TV customers, and with Apple TV 3.0 they get great new features including iTunes Extras, Genius Mixes and Internet radio."
A summary of the new features in Apple TV 3.0:
Experience iTunes Extras: Buy select movies with iTunes Extras and take your entertainment beyond the credits and behind the scenes. Access special features, watch interviews and trailers, view photos, and more right from Apple TV.
iTunes LP, now on your TV: The visual experience of the record album returns with iTunes LP. Download select albums and experience a beautifully designed interactive world — many are created by the artists — full screen on your Apple TV. While you listen to your favorite songs, you can dive into animated lyrics and liner notes, watch performance videos, view artist and band photos, and enjoy other bonus materials.
Genius Mixes: This new feature searches an iTunes library, finds songs that go great together, and creates multiple mixes, all automatically.
Visual aids — Events and Faces: Apple TV brings the ease and organization of iPhoto to the big screen with Events and Faces. Events lets users flip through photos grouped by event, like "Beach house" or "Vegas trip." Faces uses face detection to identify people in photos and face recognition to match faces that look like the same person. Click the Faces view and Apple TV shows you a corkboard featuring a snapshot of each person named in a photo collection.
Streaming Internet radio: Browse thousands of streaming radio stations and every genre imaginable, including rock, reggae, classical, and jazz. Just click a station and begin streaming. Apple TV now includes stations in high-quality HE-AAC formats for your listening pleasure.
Apple describes iTunes LP as "the next evolution of the music album, delivering a rich, immersive experience for select albums on the iTunes Store by combining beautiful design with expanded visual features like live performance videos, lyrics, artwork, liner notes, interviews, photos, album credits and more."
Meanwhile Apple TV 3.0 users also gain the ability to listen to Genius Mixes through their home theater system and hear up to 12 endless mixes of songs that go together, automatically generated from their iTunes library. Users can also tap into Internet radio, allowing them to browse and listen to thousands of Internet radio stations, as well as tag favorite stations to listen to later.
The redesigned main menu on Apple TV gives users instant access to their favorite content. Recently rented or purchased movies, as well as other content including TV shows, music, podcasts, photos and YouTube, are accessible directly from the new main menu.
Apple TV's support of HD photos has also been enhanced with iPhoto Events, which simplifies finding favorite photos, as well as iPhoto Faces, which gives access to photos organized by people identified in iPhoto.
In total, Apple TV users have direct access to a catalog of over 8,000 Hollywood films on iTunes including over 2,000 in HD video available for rent or purchase. Users can also choose from a selection of 11 million songs, 10,000 music videos and over 50,000 TV episodes to purchase directly from their Apple TV or browse and enjoy the iTunes Store podcast directory of over 175,000 free video and audio podcasts.
Earlier Thursday, Apple updated the terms of service for its iTunes Store, noting that Apple TV 3.0 was necessary to view iTunes LP and iTunes Extras content via the set top box device. Both formats debuted in September alongside the release of iTunes 9, bringing bonus content to movies and albums purchased through Apple.
The TuneKit JavaScript framework on which both iTunes LP and iTunes Extras are based uses open Web standards like HTML and CSS. The content is designed for a 1280 by 720 pixel resolution, which exactly fits the HDTV output resolution of Apple TV, and could even scale down to a 480p display. When it debuted, Appleinsider first discovered the TuneKit format includes references in its HTML meta tags to "hdtv-fullscreen" and "hdtv-cursor-off."
Thursday's update marks the first major update for the Apple TV since early 2008, when the "Take 2" 2.0 software was released. That update enabled movie rentals with just the click of a button.
The new Apple TV software is available as a free automatic download to all Apple TV customers. The 160GB Apple TV is available for a suggested retail price of $229 (US). Apple TV requires an 802.11b/g/n wireless network or 10/100 Base-T Ethernet networking, a broadband Internet connection and a high definition widescreen TV.