AT&T defends its data network from Verizon ad attacks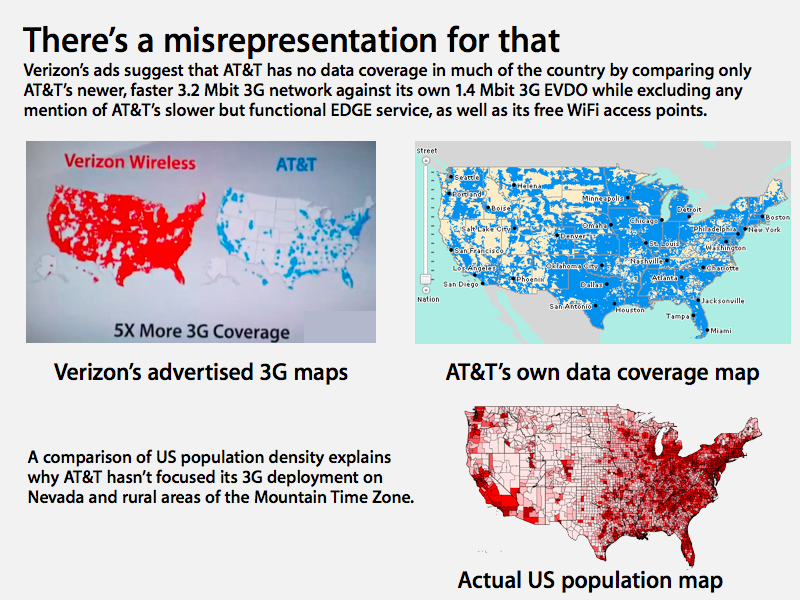 AppleInsider may earn an affiliate commission on purchases made through links on our site.
As Verizon has stepped up its efforts to portray AT&T's data network as sparse and largely unavailable, AT&T has published information that shows Verizon isn't telling the whole story.
Verizon began advertising its 3G coverage against AT&T's in a series of ads poking fun at Apple's "there's an app for that" iPhone commercials, presenting coverage maps of its own 3G CDMA/EVDO network in red against much more limited 3G service coverage maps for AT&T's 3G network presented in blue.
The problem is that Verizon isn't actually comparing the two company's data networks; it restricts its comparison to "3G data" because outside of 3G, Verizon doesn't really have a data network; users revert to extremely slow CDMA 1xRTT service, which only provides dialup speed data access.
Verizon began deploying EVDO Rev A as its 3G service enhancement in 2003, and by mid 2007 announced that its entire data network had been migrated over to the faster 3G technology, allowing download speeds of 0.6 to 1.4 Mbit and slightly slower upload speeds.
However, Verizon still says on its website that for users "in Mobile Broadband markets that do not yet have EV-DO Rev. A, you can expect download speeds of 400 to 700 Kbps and upload speeds of 60- to 80 Kbps."
There is no distinguishing between these two levels of service (one being similar to EDGE, the other being roughly twice as fast) on Verizon's coverage maps.
Plans to upgrade beyond Rev A to EVDO Rev B or Ultra Mobile Broadband were put on hold when global carriers began to move away from Qualcomm's CDMA carrier technologies to 3GPP UMTS, the emerging global standard for mobile networks. Verizon now plans to begin deploying LTE, which represents the next generation of UMTS mobile networking, but is still years away from viable use. That means Verizon's existing 3G network is mature and set in place, with little potential for performance enhancement.
During the time Verizon was selling its slow CDMA 1xRTT data earlier in the decade, AT&T was building out GPRS, the similarly slow, dialup speed data alternative associated with GSM networks globally. However, AT&T also began deploying EDGE, a "2.5G" service enhancement that supplies typical download speeds of around 0.4 Mbit, approaching the low end of Verizon's EVDO Rev A 3G.
In 2005, AT&T began rolling out its first true UMTS 3G service, which enabled data service of up to 3.6 Mbit, significantly faster than Verizon's EVDO. The company is now in the process of rolling out 7.4 Mbit enhanced UMTS data service in certain cities, including Charlotte, Chicago, Dallas, Houston, Los Angeles and Miami. It plans to have the faster 7.2 3G service in 25 of its top 30 markets by the end of next year, and to reach 90% of its 3G network by the end of 2011. By then, AT&T says it will begin deploying the faster LTE as well.
This year however, the company reports having installed an additional 2,000 cell sites to extend or improve service coverage. This includes deploying new 850 MHz 3G service which existing phones can use, as well as augmenting its mobile network with the largest WiFi hotspot network in the US, with 20,000 sites. Apple has worked with AT&T to setup automatic, free login to AT&T's WiFi networks on the iPhone whenever users come within range. WiFi offers far faster network speeds than any type of 3G network, in the typical range of around 5 Mbps.
This historical setting allows Verizon to compare its entire data network against just the faster portion of AT&T's 3G mobile data network while ignoring AT&T's existing 2.5G network that approaches Verizon's EVDO in speed. By only comparing the newest segment of AT&T's network, Verizon can advertise "3G maps" that are technically accurate, but grossly misleading to users who want to obtain data service to download email and access the web.
It also appears that Verizon is counting its service areas providing less than Rev A service as part of its 3G coverage, when in fact these deliver about the same performance as AT&T's EDGE service.
Verizon doesn't mention that the network data activities it presents in its advertisements don't require 3G service and will work with any data service. Nor does it call attention to the fact that AT&T's 3G network is already as much as twice as fast as its own, and is in the process of being upgraded to even faster service.
Verizon's own LTE upgrade plans won't kick in for at least another year or two and won't be available to existing phone users (as new LTE phones will be required to use it); modern phones like the iPhone 3GS can already use the faster 7.2 Mbit service AT&T is in the process of deploying.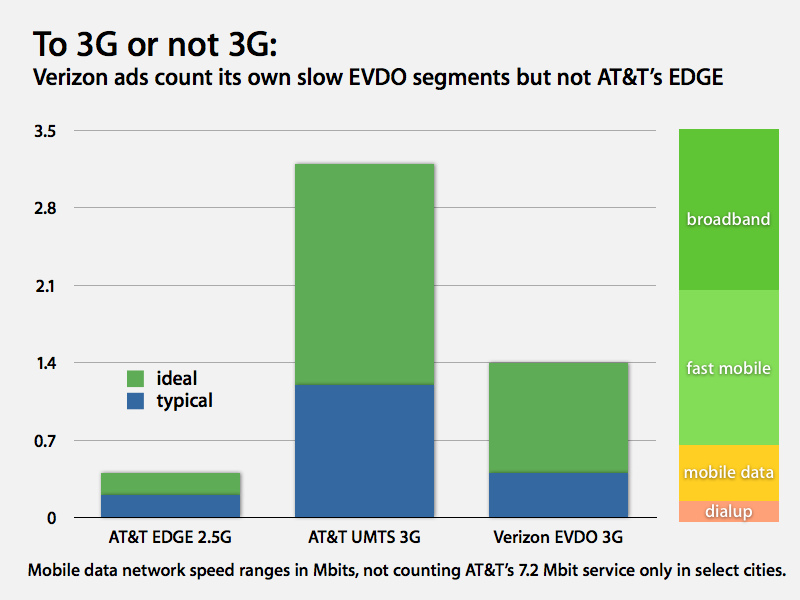 The fine print in Verizon's ads notes that its "five times more" 3G maps and comparisons relate only to surface area in square miles, not to the percentage of coverage of actual population centers. AT&T says its entire data network reaches more than 296 million users, or 98% of the population, while its 3G service is available in 9,400 cities in 350 metropolitan areas in the US. Most users are more interested in getting data service where they live and work rather than knowing there is a certain number of square miles of land with Verizon's 3G service.
AT&T is also working to expand its trial of the 3G MicroCell, used to patch remaining service holes with users' own Internet access, from the original test markets in Charlotte and Raleigh, North Carolina. On October 5, the trial was expanded to include Atlanta, GA and Columbia, SC. Yesterday it added a pilot program in San Diego, CA. The company has still not yet committed to a date for its nationwide launch, however.
Verizon's ads targeting AT&T are the company's best bet in defending steep losses as its parade of iPhone-killers fail to attract attention. AppleInsider earlier reported that Apple is believed to be developing a "worldmode" iPhone that can work across both AT&T's UMTS and Verizon's EVDO networks.
Until that arrives next year, Verizon can only advertise that the iPhone on AT&T doesn't really have enough usable service coverage, despite the fact that iPhone users consume around half of the country's mobile data bandwidth. In the meantime, observers point out that its "there's a map for that" ads really only serve to advertise the iPhone App Store, a subject Verizon should probably just ignore.