Apple corporate laptop sales set to increase despite Windows 7 debut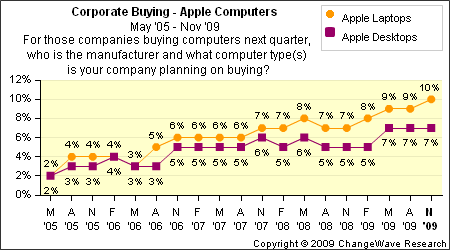 AppleInsider may earn an affiliate commission on purchases made through links on our site.
Apple laptop sales hit a new high in planned corporate sales in November, despite the release of Microsoft's Windows 7 operating system, a new survey has found.
ChangeWave's latest corporate IT spending survey shows that 10 percent of companies plan to buy a Mac-branded laptop in the first quarter of 2010. That's a new high for Apple, up from the 9 percent total hit in August.
"To date, Windows 7 does not appear to be hurting Apple's corporate Mac sales," the study said. "Rather, planned Mac buying has hit a new high in the latest survey."
In addition, 7 percent of respondents said they intend to buy a Mac desktop in the first quarter of 2010. That share has been static for most of 2009.
Interestingly, Mac desktop sales did not budge in the corporate world despite the introduction of the new iMac and business-oriented Mac mini server in October. In overall sales, the iMac was the top-selling desktop in October, and it, along with the new Mac minis, helped Apple's overall desktop sales to increase 74 percent year over year.
The corporate study came from the ChangeWave Alliance Research Network, a group of 25,000 business, technology and medical professionals who are said to work in leading companies of select industries. It surveyed a total of 1,753 corporate buyers.
Overall, the survey found a projected uptick in IT sales for the first quarter of 2010. 73 percent of respondents said they plan to buy a laptop to start the year, while 69 percent will invest in new desktops. Those levels are the highest they have been since February 2008.
Nearly one in five upgraders (19 percent) are doing so because of the release of Windows 7. Microsoft's latest operating system debuted in October, and was met with positive reviews. Apple beat Microsoft to market with the launch of Mac OS X 10.6 Snow Leopard in August, which earned its own accolades as well.
The survey also found high user satisfaction with Windows 7. More than a third — 37 percent — said their company is very satisfied with the product, while 56 percent said they are somewhat satisfied. Only 4 percent were somewhat unsatisfied, and 3 percent very unsatisfied with Windows 7.