Microsoft, HP to introduce touchscreen tablet Wed. - report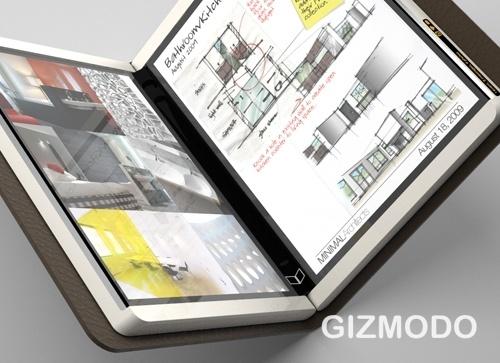 Previously seen only as a leaked concept, Microsoft and HP could unveil the dual-screen, book-like touchscreen device known as the Courier Wednesday at CES.
According to The New York Times, Microsoft Chief Executive Steve Ballmer will introduce the device during his keynote speech at the Consumer Electronics Show in Las Vegas. The hardware will be made by HP and is expected to be available for sale by mid 2010.
The Times made mention of the Courier, first viewed as a concept last September, but did not say whether Ballmer's purported new hardware would take that dual-screen form factor.
If true, HP and Microsoft will join a number of manufacturers who hope to beat Apple to market with tablet-like devices. Apple is expected to host a media event on Jan. 27 to introduce new hardware, which is widely believed to include a 10-inch touchscreen multimedia device that will ship in March.
The Times noted that a great deal of scrutiny will be placed on both Microsoft and HP if they do introduce new hardware, with Apple's expected event looming just weeks away.
"This product better be good," the report said, "because Apple is expected to unveil its take on the slate/tablet form-factor later this month. If history holds, Apple will issue a product that surprises people in a few ways and that stands out from the crowd."
Officials with Microsoft and HP declined to comment on the rumor. However, it is expected that Ballmer will introduce hardware that will function as both a multimedia device and an e-reader with multi-touch capabilities.
"It remains tough to tell where Microsoft's work ends and H.P.'s begins on this type of product," the report said. "But all eyes will be on Mr. Ballmer this week to see if Microsoft and HP and can out-Apple Apple before Apple Apples."
When it was leaked in September, the Courier was said to be a project under the eye of J Allard, Microsoft's chief experience officer. The Microsoft prototype reportedly included Wi-Fi, an iPhone-like home button, a camera on its reverse side, and an inductive charging pad like the Touchstone for the Palm Pre.
Concept pictures and video of the Courier showed two 7-inch screens held together by a hinge. The multi-touch screens were designed for writing, and could be controlled with either a stylus or fingers.
In addition to pushing the notion of the tablet PC for years, Microsoft has been behind another touch-centric device called Surface. Revealed two and a half years ago, the costly technology has yet to see any widespread real world adoption.
Another tablet concept already revealed this week came from Lenovo. Known as the IdeaPad U1 Hybrid, the laptop features a detachable resistive multitouch display that sports a separate Snapdragon processor and its own Linux operating system. When docked, with its keyboard base, the machine runs a traditional copy of Windows 7, and switches to its own "Skylight" operating system when disconnected.
Though only a prototype at the moment, Engadget had a hands-on with the device and came away with relatively positive impressions.
"When docked, the U1 looks and feels like any other snazzed-up laptop, with an Intel CULV processor and a 128GB SSD running Windows 7 Home Premium," the report said. "You actually wouldn't know there's a slate hiding in there — until you pull it out and watch it switch to Lenovo's Skylight UI, a process that was smooth and quick for us. Lenovo says the goal is for the full switch to occur in under 3 seconds, and the U1 delivered, as far as we could tell."