Apple seen moving 2M iPads in 2010 before sales 'catalyst' emerges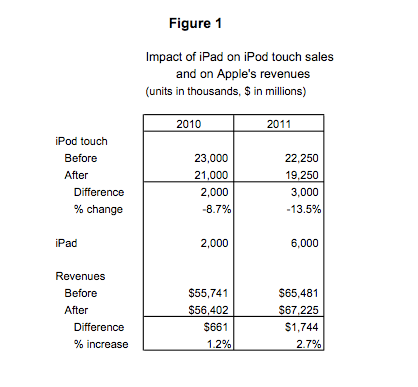 Though it has great future potential, Apple's newly announced multitouch iPad will see a moderate sales start, and most purchases will be at the cost of iPod touch sales, a new analysis has projected.
In a note to investors issued Wednesday morning, analyst Charlie Wolf With Needham & Company said he believes Apple will sell two million iPads in fiscal 2010, with over half of those sales coming at the expense of the iPod touch. He expects another six million sales in 2011.
Wolf noted that the demand for iPods and iPhones did not accelerate until "the arrival of a catalyst" for each of the products. For the iPod, it was the opening of the iTunes Music Store and porting of the media suite to Windows in 2003. And for the iPhone, it was the release of the software development kit and opening of the App Store in 2008.
What the catalyst will be for the iPad, Wolf said, remains to be seen.
"The long-term trajectory of iPad sales is unlikely to be revealed in the first 18 months after its introduction this spring," he wrote. "If the analogy with the iPod and iPhone holds up, history suggests, then, that a hockey stick in sales is unlikely to occur before fiscal 2012, which is beyond our forecast period."
Wolf sees the iPad having the greatest chances of success in the education and healthcare markets. He envisions students accessing their texbooks via an iPad, and doctors and nurses carrying around a wealth of relevant information via the 1.5-pound device. One recent report suggested some hospitals were looking at the iPad as a potential tool, while major textbook publishers have signed with application developer ScrollMotion to adapt textbooks to an electronic format.
A more challenging market for Apple to crack is general business. But Wolf sees hope there, as the iPhone is currently being evaluated for deployment at most Fortune 200 companies. In addition, sources have told AppleInsider that Apple is targeting the iPad at business users with features designed to make it attractive for the enterprise market.
But the largest potential market for the iPad is home users, where it will likely target netbook users. With a starting price of $499, Wolf believes Apple will appeal to users who are interested in using a device solely to access the Internet.
With the iPad forecast to cut into iPod touch sales, its projected net revenue contribution to Apple is relatively small, with just 1.2 percent in 2010 and another 2.7 percent in 2011. Needham & Company has maintained earnings per share estimates of $12.85 in 2010 and $15.25 in 2011 with a price target of $235.