Unannounced Core i7 Apple MacBook Pro surfaces in benchmarks logs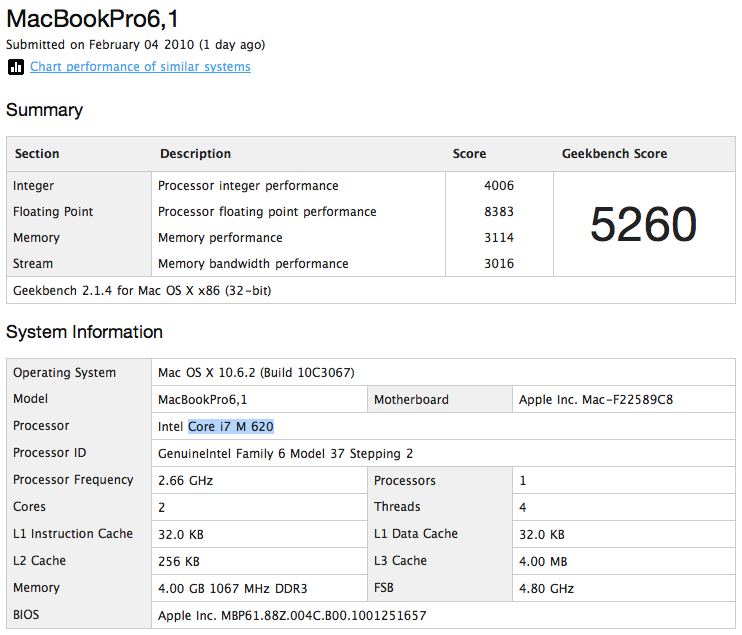 A benchmark report for an unreleased Apple MacBook Pro sporting Intel's upcoming dual-core 2.66GHz Core i7 mobile processor was published online this week, suggesting a refresh to the professional notebook line may be imminent.
The Geekbench report, which can be seen in its entirety here, was submitted on February 4th and subsequently spotted by a MacRumors forum member. It lists the model as a MacBook Pro 6,1 — a previously unused MacBook Pro identifier — running an unreleased build of Mac OS X 10.6.2 labeled 10C3067.
More specifically, the chip that registered inside the unreleased MacBook Pro is the Core i7 M 620, which represents the highest-performance chip announced as part of Intel's new Arrandale mobile offerings last month.
Overall, the unannounced system garnered a score of 5260, which compares quite favorably to a high score of roughly 4620 for the existing top-of-the-line 17-inch 3.06GHz Intel Core 2 Duo MacBook Pro, and a score of 4260 for the existing 2.8GHz Core 2 Duo model.
If not the result of a custom hack, these findings suggest that the MacBook Pro responsible for the this week's Geekbench score may represent a high-end 15- or 17-inch model that Apple plans to introduce to the market shortly. The Mac Maker has been rumored to adopt Arrandale microprocessors to further its professional notebook line, though previous reports have focused around the machines adopting the Core i5 line of processors.
For instance, Intel last month accidentally issued an email to its Retail Edge program offering partners a chance to win a forthcoming MacBook Pro based around a new Core i5 processor. The world's largest chipmaker later claimed the promotion was an error, though somewhat unconvincingly.
Assuming the aforementioned benchmarks aren't the result of a one-off custom hack, it's reasonable to presume Apple may use a combination of Core i5 and Core i7 chips to power its forthcoming MacBook Pro refresh, starting with the 2.26GHz (430M) or 2.4GHz (520M) Core i5 variants on the low end, stepping up to 2.53GHz (540M) Core i5 on the mid-range model, and maxing out with the 2.66GHz 620M Core i7 on the high-end offerings.


The Core i7 chips include 4MB of Level 3 cache while the Core i5s include 3MB of Level 3 cache. Both processor lines offer 2x DDR3-1066 memory, as can be seen in the charts above.