CES: Intel debuts Apple-bound Core i5 chips, Nvidia unveils Tegra 2

AppleInsider is supported by its audience and may earn commission as an Amazon Associate and affiliate partner on qualifying purchases. These affiliate partnerships do not influence our editorial content.
The 2010 Consumer Electronics Show in Las Vegas is in full effect, with Intel formally debuting its new processor lineup, some of which are expected to turn up in future Apple notebooks, and Nvidia touting its tablet-powering Tegra 2 chip.
Intel's i5 mobile processors could be in future MacBook Pros
Though Intel's new chip lineup has already been outed, and even benchmarked, the company formally introduced the new Core i3, i5 and i7 processors at a press conference Thursday. The mobile Core i5 is considered to be a candidate for a MacBook Pro refresh.
Intel said the first 32 nanometer processors represent the first time the company is mass-producing chips at "mainstream" prices at the start of a new manufacturing process. The chips have the major northbridge memory controller components built in.
The new processors are set to improve upon the previous line of Intel's Core 2 Duo chips, which have been utilized in versions of Apple's new MacBook, MacBook Pro, and iMac. Apple uses the mobile variants of Intel's desktop chips for those systems, meaning machines with chips based on the Arrandale architecture could arrive soon.
"For the first time, there's a new family of Intel processors with the industry's most advanced technology available immediately at virtually every PC price point," said Sean Maloney, executive vice president and general manager of the Intel Architecture Group.
"These smart processors adapt to an individual's needs, automatically providing a 'boost' of performance for everyday applications. They become energy efficient to the point of shutting down processing cores or reducing power consumption to provide performance when people need it, and energy efficient when they don't."
Currently, Apple uses Nvidia chipsets with its Mac lineup. But the architectural changes through Arrandale — along with an ongoing lawsuit that has forced Nvidia to halt the development of future chipsets — could make it difficult for Apple to continue with Nvidia.

Apple last updated its MacBook Pro line in June at the Worldwide Developers Conference. Those systems included Core 2 Duo processors and Nvidia graphics, along with cheaper prices, better displays and built-in batteries.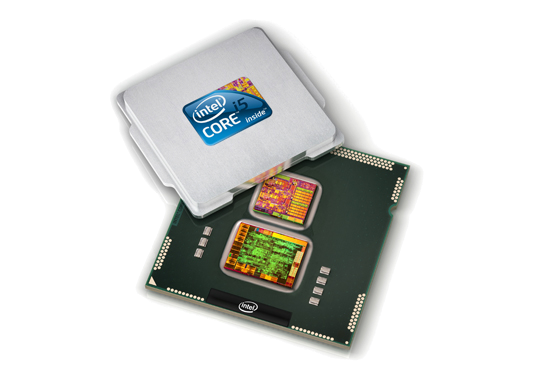 Nvidia Tegra 2 to power tablets in 2010
Nvidia introduced its next-generation Tegra mobile processor Thursday. The company said the new processor is "specifically designed for the high-resolution needs of tablets."
As Apple is expected to announce its touchscreen tablet this month, numerous manufacturers have attempted to use CES to get a jump on the Cupertino, Calif., company by debuting their own "slate PCs." This week, high profile touchscreen computers from HP, Dell, and Lenovo were all shown in Vegas.
Nvidia declined to announce any specific hardware for its new Tegra processors Thursday, but made it clear the company intends to be a part of the tablet frenzy. The processor is capable of streaming 1080p video, Adobe Flash 10.1 acceleration, a 3D user interface, and "days of battery life."
Tegra offers eight independent processors, including the world's first dual core CPU for mobile applications. Together, they can optimize power usage to deliver a claimed 16 hours of HD video or 140 hours of music on one charge.
"Without question, 2010 is going to be year of the tablet," said Tim Bajarin, president, Creative Strategies, Inc. "The new Nvidia Tegra processor has a unique feature set critical for tablets — fast web browsing with fully rendered pages, uncompromised graphics, snappy user interface and HD video — all with the battery life we've only seen with cell phones."