Apple seen extending exclusive iPhone deal with AT&T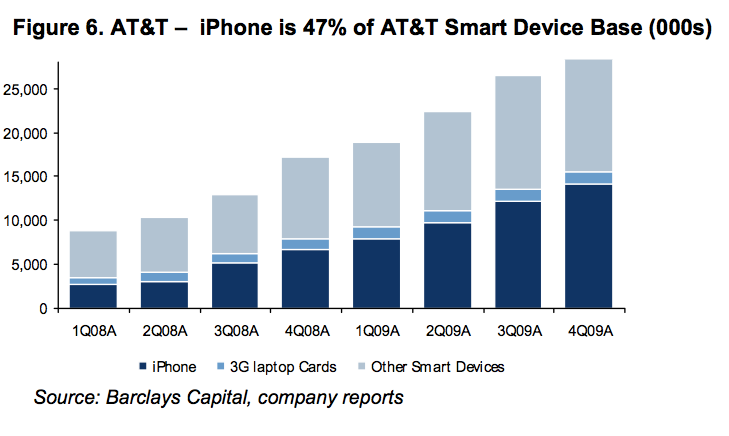 AppleInsider is supported by its audience and may earn commission as an Amazon Associate and affiliate partner on qualifying purchases. These affiliate partnerships do not influence our editorial content.
Two new analysts said Tuesday that the iPad-AT&T deal suggests Apple may extend its exclusive iPhone agreement through 2011, leaving the wireless provider as the sole carrier of the handset in the U.S. this year.
While speculation was rife for months (1, 2, 3, 4, 5) that Apple would partner with Verizon for a new CDMA-compatible iPhone this summer, sentiment has changed in recent weeks, after Apple publicly stood by AT&T and also announced an agreement with the carrier for the iPad's domestic 3G data plan. Lending its support for that line of thinking Tuesday was Barclays Capital, which issued a new note to investors with the conclusion that Apple and AT&T will likely remain exclusive for the remainder of 2010.
Analyst Vijay Jayant said the iPad announcement, with no-contract 3G data plans available exclusively through AT&T, showed that Apple remains content in its ongoing partnership with the nation's second-largest wireless carrier.
"(The) launch of Apple's iPad on AT&T's network is a vote of confidence in AT&T's network by the equipment maker," Jayant wrote. "While iPad sales are unlikely to materially impact wireless revenues in the short term, selecting AT&T to launch its second major communications product reflects Apple's bias for the global GSM platform and the prospects of AT&T's network capability. Moreover, it could suggest the iPhone exclusivity may continue, at least through the end of 2010."
In addition, Steve Clement with Pacific Crest said he believes the odds of exclusivity being extended have improved, in light of the recent announcements. He noted that the tone from Apple regarding AT&T has become noticeably more positive in recent months.
Clement has long believed that AT&T would not be able to retain exclusivity until 2011, but a number of recent developments, he said, may suggest otherwise. He noted that AT&T's plan to increase capital expenditures in 2010 could be a sign that the carrier intends to increase its bandwidth capacity to accommodate keeping the iPhone solely on its network. In addition, he said the carrier's wireless-margin guidance for 2010 does not seem to factor in the margin benefit the company would gain by losing exclusivity in the second half of the year.
Both analysts join Credit Suisse, which last week predicted there is a 75 percent chance AT&T will remain the exclusive carrier of the iPhone in the U.S. in 2010. Their assessment said the iPhone will inevitably be available on multiple carriers in the U.S., but a probability analysis suggests it is not likely to occur in this calendar year.
The role that the iPhone plays in AT&T's business is huge: Barclays Capital estimates that Apple's handset is 47 percent of the AT&T smart device base. Because smartphone users mean more average revenue for carriers, the iPhone has become a significant part of AT&T's success.
Credit Suisse and Barclays Capital have both concluded that retaining exclusivity over the iPhone would be a major coup, both in the short and long term, for AT&T. The added time would give the provider a chance to improve its network capacity and alleviate bandwidth issues that have plagued the carrier for some time. But both also believe that AT&T will lose exclusive rights to the iPhone by 2011 at the latest.