App Store developer interest nearly triples from Apple iPad hype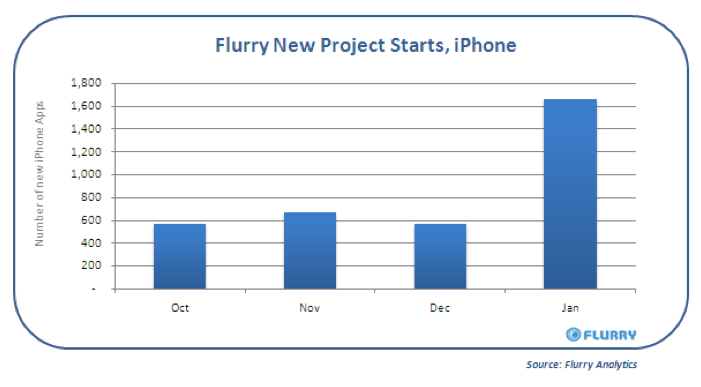 AppleInsider is supported by its audience and may earn commission as an Amazon Associate and affiliate partner on qualifying purchases. These affiliate partnerships do not influence our editorial content.
The number of new projects started for the App Store nearly tripled in January, as the month was dominated by hype for and the announcement of Apple's iPad.
Flurry Analytics on Friday released its latest edition of the "Smartphone Industry Pulse" for January 2010. The mobile analysis firm, which has tracking data in over 20,000 mobile applications, said developers integrating Flurry analytics into iPhone OS applications in January increased nearly three times over December's total.
With more than 1,600 new applications with Flurry started in January, compared to under 600 in December, the start of 2010 represented the largest surge in application starts in the history of the analysis firm's tracking.
"As such, we hypothesize that excitement generated by Apple's iPad event in January is driving this growth," the firm said. "For developers who get a jump on customizing their applications for the iPad, there may be an opportunity to stand out early on, and earn more downloads."
Apple revealed at its iPad event that there are more than 140,000 applications available on its mobile App Store. That software will be compatible with the iPad when it debuts at the end of March.
But developers will also be able to create new, iPad-specific applications that take advantage of the multitouch device and its 9.7-inch screen.
While the App Store saw a huge increase, new Android applications grew about 25 percent in January, continuing a steady ramp for Google's mobile platform. However, Apple's App Store spike helped to push it even further ahead of Android.
"While Android's steady new application growth over the second half of 2009 closed the gap against the iPhone, reaching as many as one out of every three new application starts within Flurry for December, the recent spike in Apple iPad support has swung the pendulum back in Apple's favor to a level not seen at Flurry in six months," the report said. "The unprecedented surge in support for iPad is a positive early indicator for its commercial potential."