Apple looking to improve exercise routines with 'virtual competitor'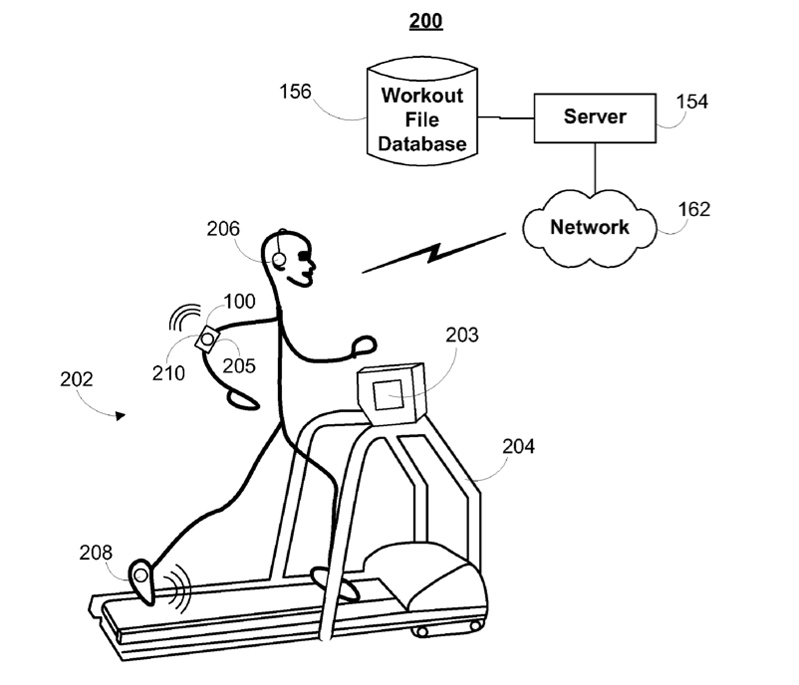 A new patent application from Apple describes an exercise motivation feature that presents a "virtual competitor," providing an "interactive and engaging experience" for fitness enthusiasts.
The application revealed this week, entitled "Real-Time Interaction with a Virtual Competitor While Performing an Exercise Routine," notes that while there are currently a variety of methods designed to push athletes farther, some people want something even more engaging.
Fitness enthusiasts sometimes need new sources of motivation, such as when training indoors during inclement weather," the application reads. "Modern health clubs partly serve this need by providing television monitors and music to entertain members using treadmills, stationary bicycles, elliptical trainers, and other fitness equipment. Products like the Nike+iPod Sports Kit provide workout-based voice feedback, motivational media, and the ability to share workouts among Nike+community members."
The application describes a networked system that could download a workout file associated with the virtual competitor. The system could also determine the performance of the athlete using the iPod or iPhone, and compare their performance with that of the virtual competitor.
Such a system could track the "performance metrics" of the user in both physiological terms, such s heart rate, blood oxygen content and temperature, and non-physiological performance indicators, like speed and distance.
As for the competitor, the system could display visual cues, such as location, via GPS, on Google Maps, demonstrating the user's position relative to the virtual opponent. The system could also be done audibly, allowing a runner to focus on their performance.
"For example, as user… passes the 2-mile mark, an audible cue played through the headset… may announce a 2-mile split of 10:27," the application reads. "If user… has a lead… cues may be played if the lead is less than a predetermined distance. For example, if the lead is less than 100 feet, an audible cue may be played, such as 'He's right behind you.' For smaller leads, an audile cue may be the sound of footsteps thumping."
If a user were running indoors on a treadmill, cycle, or elliptical machine, the virtual competitor system could be turned into a game, where the runner can conduct "tactical maneuvers," tracked with a camera, that can be use to complete certain actions. The competitor, represented by a virtual avatar, could potentially be crowded out by the user with a hands-free mouse, and such actions in the game could earn the runner points.
The invention is credited to Allen P. Haughay Jr., Jeffrey T. Lee, and Irwin W. Graves Jr. It was filed for on Sept. 9, 2008.
Apple has shown a great deal of interest in fitness products over the years, particularly in its patent applications. The described technology has been as specific as a sole wear-out sensor for shoes, and as broad as a digital lifestyle fitness companion akin to a more advanced version of the company's Nike + iPod sport kit.
Last September, Apple updated its iPod nano with a built-in pedometer that keeps track of steps taken and calories burned. Nike also released a heart rate monitor for the hardware.